Buying a condominium or townhome in Mt. Pleasant, SC 854-568-0595

Looking for the perfect Mount Pleasant Address? We know just the place.

HOME DOWNTOWN CHARLESTON MOUNT PLEASANT SULLIVAN'S ISLAND DANIEL ISLAND JAMES ISLAND
WEST ASHLEY JOHNS ISLAND CHARLESTON RELOCATION CHARLESTON AGENTS PROFILE

Get and overview of the Mount Pleasant area here and then go to a more in-depth condo search page

Waterfront Condos in Mount Pleasant


MOUNT PLEASANT CONDOMINIUMS AND TOWNHOMES

Just across the Cooper River from downtown Charleston, across the magnificent new Arthur Ravenel bridge, the town of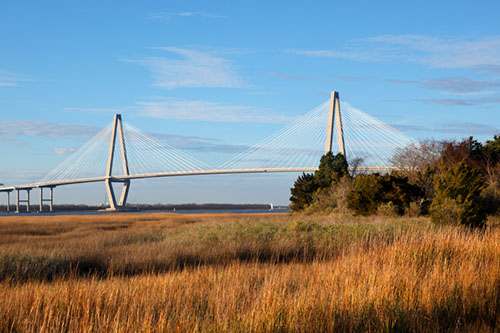 Mount Pleasant incorporates small-town flavor with a lively, sophisticated exhuberance.
The historic Old Village features grand colonial and antebellum houses on bluffs along the waterfront, while nearby Shem Creek offers a fashionable restaurant and shopping hangout overlooking shrimp boats and diving pelicans. Bordered on three sides by creeks, rivers and the intracoastal waterway, Mount Pleasant is an outdoor paradise, with golfing, parks and marinas, bicycle paths and spectacular waterfront views.
Some of Mount Pleasant's the best residential views are from its tasteful selection of condominiums. At Simmons Pointe, condos offer panoramic marsh views overlooking the expansive intracoastal waterway and Sullivan's Island, whose pristine beaches are less than five minutes away. These units feature private sundecks, tennis courts and swimming pool and a community crab dock.
At Seaside Farms near the Isle of Palms, new construction features affordable three bedroom units under $275,000. Conveniently located near the exciting new Seaside Farms restaurant and shopping district, condos include a fitness facility and swimming pool.
The Meridian near Mount Pleasant's thriving Town Center complex, the Isle of Palms connecter and I-526, is a great location only minutes from area beaches. With views overlooking woods and water, and amenities that include tennis, basketball and fitness facilities, these one, two and three-bedroom units are a great investment in the heart of Mount Pleasant's well-planned growth.
Tides Condominiums, Sawyer's Landing, Bay Club, East Bridge Town Lofts, Long Grove, Marsh Harbor, Montclair, One Belle Hall,Renaissance on Harbor, Shelmore Village, Six Fifty Six, Snee Farm
Nestled within the picturesque setting of coastal South Carolina, the town of Mount Pleasant is appropriately named. Boasting a host of exquisitely distinctive neighborhoods, a wealth of easily-accessible pristine waterways, and a wide range of first-class recreational facilities, Mount Pleasant is a comfortable blend of historic beauty and modern elegance. Carefully planned with abundant parks and outdoor areas for the enjoyment of many natural resources, Mount Pleasant also features chic and cozy shopping venues, fine dining at waterfront locations, numerous outstanding golf courses, state-of-the-art marina facilities and a maritime heritage complex considered among the finest in America.
Mount Pleasant is renowned for its architectural charm, with exceptional properties framed against towering live oaks behind classic picket fences or situated along creeks, lagoons and waterfront locations.
Most of all, Mount Pleasant is an ideal place to live....a town whose prevailing graceful image beckons people to come home, to come play, and to come enjoy a remarkable lifestyle always known to be uncompromisingly pleasant.
Condo Quick Search
Condos and townhomes West Ashley
Click this link to Search the MLS for ALL Charleston Area Condos


Questions about Condominium real estate in Charleston SC ?