Daniel Island - Charleston South Carolina Information
HOME DOWNTOWN CHARLESTON MOUNT PLEASANT SULLIVAN'S ISLAND JAMES ISLAND
BUYING A HOME | SELLING A HOME | CHARLESTON MLS | CHARLESTON AGENT | TESTIMONIALS
Daniel Island...for island living in Charleston, SC
Search the MLS for ALL Daniel Island Listings
Search Daniel Island Neighborhoods - listings displayed on Google maps by neighborhood
Click here to view Deepwater Properties in the Charleston tri county area - Dorchester, Berkeley, and Charleston county.
Quick Link for Daniel Island Development:
What a resident has to say...What is there not to love about Daniel Island! Everything one needs is within walking distance-Publix grocery, pharmacy, cleaners, nail spa, several great restaurants, banks, shops, gas and convenience store, etc. In addition, there is a golf club and a world class tennis venue. We are also blessed with outstanding walking and bike trails as well as several parks for children, schools and churches. Daniel Island also publishes a weekly paper outlining up-coming activities and events. All of this, and it's 20 minutes from downtown Charleston and less to the beaches!
Daniel Island Park and Smythe Park communities within the Daniel Island neighborhood.
Daniel Island Neighborhoods: Exquisitely-designed neighborhoods incorporate parks, lagoons, and manicured greenspaces, as well as a
myriad of distinctive architectural styles that have made homes on the island among the most coveted in the Charleston area and along the Atlantic coast. All homes on the island are built according to demanding master plan guidelines set by the Daniel Island Architectural Review Board, and are constructed by builders carefully selected for their experience, customer satisfaction, and attention to quality and detail.
BARFIELD PARK
Overlooking the quiet Wando River along Daniel Island's eastern shoreline is Barfield Park, whose attractive selection of houses and townhomes are surrounded by nature trails, wetland boardwalks and windswept marshes. A stroll or bike ride through acres of pristine habitat offers excellent views of classic coastal lowcountry scenery, from the twisting limbs of moss-laden oak trees to the gently-flowing streams where dolphins splash and waterfowl lingers. Properties in Barfield Park range from the mid $300s to the low $400s, offering panoramic natural views with ample greenspaces for families to enjoy. Amenities include picnic areas, bike and hiking paths, an oak-shaded gazebo, as well as the outstanding community pool and marshfront pavilion of nearby Pierce Park.
CENTER PARK
Among Daniel Island's most classic and charming neighborhoods, Center Park features a variety of homes built in traditional lowcountry styles ranging from the mid $300s. Breezy piazzas and pitched roofs are distinctive features of many of the houses, while pillared porticoes and courtyard gardens highlight brick townhomes. The lovely two-acre park in the center of the neighborhood is an aesthetic blend of landscaped surroundings and shade trees, and is a favorite gathering spot for families, enhancing the sense of community togetherness that is so cherished throughout Daniel Island.
COCHRAN PARK
Secluded and serene along Daniel Island's northwest expanses of unspoiled creeks and marshlands is Cochran Park. Many of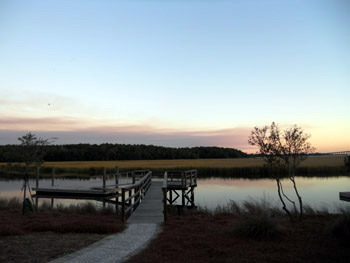 the impressive homes here offer dazzling views of wetland areas that stretch for miles toward the Cooper River, over which the sun sets each day in a golden spectacle of swaying marsh grass and flocks of darting waterfowl. Built in the tradition of southern coastal elegance, the statuesque homes of Cochran Park are designed to capture cool summer breezes and provide a relaxing vantage point to enjoy the natural surroundings, Priced from the low $400s, houses are tastefully framed by flourishing green spaces and streetscapes along which bike and walking paths lead to marsh and water's edge.
CODNER'S FERRY PARK
A seemingly perfect blend of nature and architecture is among the alluring aspects of Codner's Ferry Park, where handsomehomes have been meticulously spaced amid a stunning background of maturing oaks and flowering greenspaces. Adjoining Bellinger Island nature preserve, the quiet, shaded neighborhood represents the very character of the island in its gentle harmony with the natural surroundings. The neighborhood's proximity to deep-water creeks, tidal marshes and unspoiled woodlands gives it a flavor of relaxed privacy and wide open spaces, yet is within a few minutes of the island's downtown shops and restaurants. A shady park area, swimming pool, hiking trails and a community dock and boat ramp add to the recreational flavor of Codner's Ferry Park, where houses range from the $500s to $1 million.
DANIEL ISLAND PARK
Along the northern expanses of the island, the entrance to Daniel Island Park welcomes all with its rows of seemingly
sculpted oaks and radiant banks of colorful flowers, and inside, the view is more spectacular. Grand houses featuring stuccoed verandas, colonnaded piazzas and sky terraces stand overlooking panoramic vistas of manicured greens and fairways, marshes and lagoons. Meandering through the neighborhood are the two premiere golf courses of the Daniel Island Club. Designed by Tom Fazio and Rees Jones, the courses are a challenging pleasure as they wind through wetlands and forest. Daniel Island Park residents enjoy full access to clubhouse dining and entertaining, as well as use of tennis, pool, and fitness facilities, and have the opportunity to join for full golf memberships. Homes range from $800,000 to $6 million, homesites start in the $300s.
ETIWAN PARK
With a seven-acre park, amphitheater and recreational area at its hub, Etiwan Park is ideal for families with young children, singles walking their pets, or anyone with a yearning to throw a frisbee, kick a soccer ball or enjoy some outdoor music. Only a few blocks from the island's chic downtown area, Etiwan Park is an ideal location for walking to restaurants, shops and bistros. Also nearby is one of South Carolina's most prestigious secondary schools, Bishop England High School, whose attractive new campus and facilities offer a chance to view some of the area's best football, basketball, baseball and soccer, and Daniel Island Academy, a state-of-the-art early development child care center. Homes in Etiwan Park begin in the low $400s, and offer park views as well as lush streetscapes along bike paths and lagoons.
PIERCE PARK
Centered amid marsh and river views that lure bicyclers and hikers, arranged in a pattern of tree-lined streets where neighbors chat and stroll, and flanked by a cheerful park with open-air, marsh front pavilion and lavish swimming pool enjoyed by children and adults, Pierce Park is the consummate American community experience. Known for its hospitable character and friendly social gatherings, Pierce Park features affordable homes and townhomes in the mid $300s. The neighbor is centrally located on the island, within easy walking distance to the island's array of new schools and day care facilities, as well as being near the cozy downtown area.
SMYTHE PARK
Newest in the island's variety of stylish neighborhoods is beautiful Smythe Park, where delightful homes are arranged around a mesmerizing park and lake centerpiece. The park is Daniel Island's largest at 24-acres, and besides the shimmering 11-acre lake, includes hiking and biking trails as well as scenic picnic areas. Adjacent the Wando River on Daniel Island's southern tip, Smythe Park is convenient to the new K-8 Daniel Island School, island library, as well as the Pierce Park pool and pavilion facilities.
DOWNTOWN
Daniel Island's chic and attractive downtown area is a comfortable place to live, work, shop or socialize. Featuring a variety of bistros and restaurants, there are the cajun flavors of Sodawater Grill, the spicy organic aromas of Orlando's Pizza, and the shrimp and grits at Laura Albert's Tasteful Options. Along a panoramic streetscape that includes banks, flower shops, legal offices and a medical center, two and three-bedroom condominiums offer a taste of city living on this spacious island. Featuring open terraces, convenient parking and access to bike and hiking trails, these cozy modern condos put residents in the center of island action for an affordable price that begins in the $200s.
Daniel Island Outdoors: Outdoor recreation and enjoyment for the entire family is a key theme throughout the island, featuring miles of hiking and biking paths through gorgeous meadows, beneath moss-covered oaks and along windswept marshes, as well as community pools, playing fields, picnic tables and gazebos, and the island's own nature-viewing preserve, Bellington Island. Golf is also a major attraction, and inside stunning Daniel Island Park, the island's exclusive Daniel Island Club offers members two exciting 18-hole championship courses, including the Tom Fazio-designed Beresford Creek Course, and the Ralston Creek Course designed by Rees Jones, which has been selected by Golf Digest among the best in South Carolina. World-class tennis and soccer facilities on Daniel Island include the Family Circle Tennis Center, featuring a 10,000 seat tennis stadium that hosts the prestigious Family Circle Cup each Spring, as well as 5,000-seat Blackbaud stadium, home of the A-league soccer National Champion Charleston Battery.
Downtown Daniel Island: Officially part of the city of Charleston, whose historic downtown is less than a fifteen-minute drive away, Daniel Island not only has the feeling a town-within-a-town, but a countryside haven as well. The island's attractive downtown area features an assortment of boutique shops and restaurants, as well as banks, medical offices and grocers. Only a short walk or bike ride from these stylish store fronts, wetland boardwalks and nature trails offer the serenity of undeveloped natural settings where ancient Indian tribes wandered and rice and cotton plantations once thrived.
Daniel Island Business: On the cutting edge as a living, working and social destination, Daniel Island is headquarters to some of the South's most advanced technology-based industry, including Blackbaud, a prominent developer of computer software, and Suncom, a leading wireless communications company. The island is home to some of the most popular restaurants in the area, including Queen Anne's Revenge, known for its pirate artifacts and prime rib, and Sienna, a contemporary Italian motif featuring such delights as roasted quail and carpaccio. The stadium area at the Family Circle Tennis Center has been a major hit for music concerts and events, including the annual ChazzFest each September that attracts world-class musicians and artists. Best-known for enjoyable lifestyle, Daniel Island's most distinctive appeal comes from its neighborhoods.