Beachfront and Deepwater homes for sale - Sullivan's Island, South Carolina
HOME DOWNTOWN CHARLESTON MOUNT PLEASANT SULLIVAN'S ISLAND DANIEL ISLAND JAMES ISLAND WATERFRONT

Sullivan's Island Homes for Sale
Find the perfect home on Sullivan's Island, South Carolina!
BUYING A HOME SELLING A HOME CHARLESTON MLS CHARLESTON REAL ESTATE
Search the MLS for Sullivan's Island Properties
Quick Search: Beachfront and Oceanview
The fact is, there just are not many places that offer what Sullivan's Island can - a sunny, tropical climate on a pristine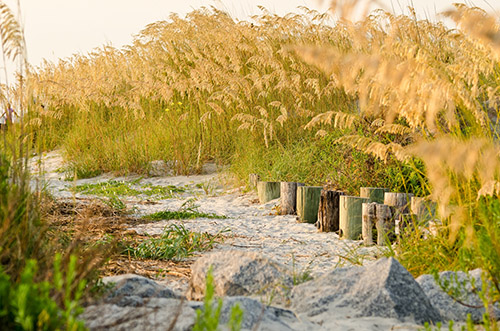 residential island, close to America's most historic city, featuring the state's most highly-rated public elementary school and a national historic Revolutionary and Civil War site.

Of all the historic, sea island and waterfront residential properties near Charleston, South Carolina, the one of the most sought-after is unquestionably Sullivan's Island.

This three-mile barrier island 15 minutes from downtown Charleston is a jewel unto itself, with pristine beach on one side, waterway estuary on the other, grand views of Fort Sumter and Charleston Harbor, and some of the most relaxed, stylish living in America.

The island's name and settlement history dates to 1674, when Capt. Florence O'Sullivan was appointed to create defenses there to protect the new colony of Charleston. In 1776, South Carolina troops on Sullivan's Island fought off and defeated a British fleet one week before the signing of the Declaration of Independence, and historic forts on the island would play a major role in the Civil War and in the development of its earliest homes.
Oceanfront Homes for Sale
Find the perfect Sullivan's Island Address!

The oldest residence on Sullivan's Island dates to 1834, and dozens of distinctive homes that exist today were built as beach cottages in the mid to late 1800's in Classic Revival and Victorian influence. Cypress exteriors, post-and-beam heart pine
interiors, gabled dormers, mansard roofs, and tiered piazzas with gazebo wings are among the exceptional architectural styles that grace the quiet, over-sized lots.

Primarily residential, and without a single traffic light, Sullivan's Island has no beachfront boardwalks, hotels, businesses or parking, and prides itself as a family-friendly area of sandy beach paths and protected maritime forest, whose prevailing sound is that of a crashing surf.

Covenants recently approved by the Sullivan's Island town council restrict the number of houses that can be rented on theisland as a means of preserving the sense of community. Resort renters can find plenty of property on neighboring beaches, but Sullivan's Island is content to be a neighborhood in which most residents live year-round.

The island does have a small, upscale commercial corridor that is very popular with locals, featuring a range of delightful dining and socializing experiences enhanced by the island surroundings. There's fine dining at Atlanticville and Station 22 restaurants, family dining at Sullivan's and Poe's restaurants, and a convivial music, food, and nightlife at Off The Hook, Bert's Bar, and Dunleavy's Irish Pub.

Among the quaint aspects of Sullivan's Island are the prevalence of golf carts cruising an island that has no golf course, and the arrangement of north-south blocks into what are known as stations. These date to the 1890's when electric and horse-drawn trolleys were introduced to the island along a series of tracks from one end to the other. Today, the preferred conveyance is the golf cart, as the tracks, trolleys and horses are gone. The old trolley stops, or stations, still hang on as street addresses, and windsurfers, for example, always know to congregate at Station 30 for some excellent off-shore breezes.

Views of flying kiteboards and windsurfers, rolling shrimp trawlers and sailboats, leaping dolphins and porpoises, or diving pelicans and seagulls is a year-round pleasure on Sullivan's Island, whose property values have appreciated dramatically in the last decade, but still compare very favorably to other prestigious locations along the Atlantic Coast.
Click this link to Search the MLS for Sullivan's Island Properties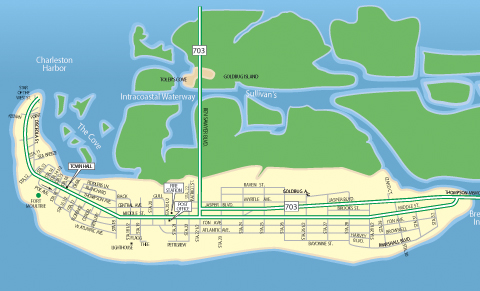 Questions about Real Estate in Charleston, SC?