Charleston Interior Architecture - Historic Downtown Charleston and Mount Pleasant South Carolina
HOME DOWNTOWN CHARLESTON MOUNT PLEASANT SULLIVAN'S ISLAND DANIEL ISLAND JAMES ISLAND WATERFRONT
The architecture of Homes and Buildings in Downtown Charleston
CHARLESTON ARCHITECTURE -
Among the many reasons for Charleston's universal appeal is the historic architecture of its downtown neighborhoods. The extent of classic
Georgia, Federal, Adamesque, Greek Revival, Italianate, and Victoria homes is unparalleled anywhereelse in America, but is featured block after block throughout the Charleston peninsula.

Learn about Charleston's famous gardens, churches, architecture, watch a video on downtown Charleston or take self guided walking tour of Charming Charleston. Discover more about the Interiors of Charleston's finest homes.

SOUTH OF BROAD The most famed and exclusive architecture appears in homes on Charleston's lower peninsula, south of Broad Street. Along East Bay Street, world-renowned Rainbow Row is an excellent example of 18th-century Georgian townhouse construction, featuring a variety of brick and stucco exteriors painted in a spectrum of pastels. Arched doorways, gambrel roofs and quoins on some Rainbow Row exteriors are matched in beauty by paneled wainscoting and architrave moldings inside. Number 95 was once owned by Charles Cotesworth Pinckney, signer of the U.S. Constitution. Facing the harbor along East Battery Street is famed Battery Row, a line of towering waterfront mansions that represent the heyday of Charleston's visual splendor. Homes here range in origin from 1809 to 1920, and display a mix of styles from Italian Renaissance Revival to Art Deco. On rooftops supported by an assortment of Ionic and Tower-of-the-winds columns and pedimented pavillions, Charlestonians stood watching the firing on Fort Sumter that began the Civil War, and in still imbedded in a dormer room at number 9 East Battery are remains of a Confederate cannon that exploded and landed in the house.

Loads of Seasonal Events in the Lowcountry of South Carolina:

Preservation Society of Charleston: 36th Annual Fall Tours of Homes and Gardens, October 3rd thru 27th, 2013 .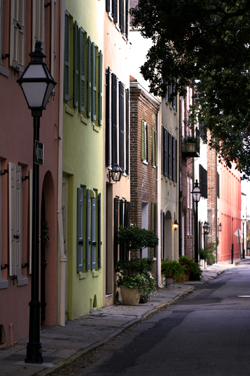 This five week event is possible only as a result of the generosity of owners of historic properties, loyal Society members, and dedicated volunteers. Please join us as we share the unique heritage of this National Historic Landmark city with you. Tickets are $45 and a special three day weekend rate of $120. Call for more information (843) 722-4630.

Historic Charleston Foundation: Festival of Houses and Gardens - 67th Annual Festival of Houses and Gardens March 20 through April 19, 2014 TICKETS GO ON SALE NOV.1, The festival takes place during Charleston's peak bloom time. These tours provide a rare opportunity for guests to go inside the private houses and gardens of some of America's most beautiful historic residences, dating to the 18th century. For more information, contact the Ticket Office at 843-722-3405. This year home tours include Legare, Meeting, Wentworth, Tradd, Broad, South Battery, Church, King, Anson, Charlotte and East Battery streets.

Offered each Thursday of the Festival - Glorious Gardens - March 20th, March 27th, April 3rd, April 10 & April 14, April 17th and April 19th beginnig at 2 p.m.

Need a knowledgeable tour guide? Join Michael Trouche for an incomparable experience featuring: Spectacular architecture, flourishing gardens and stunning ironwork, historic events, unique legends, memorable characters and traditions, colonial interiors, charming nooks, Civil War sites, harbor history, pirate legacy, African and European heritage. Call Michael at 843-478-4718 for reservations or visit CharlestonFootprints.com for more information. More on tours...

Father west, Church and Meeting Streets are dominated by the colonial-era single and double houses for which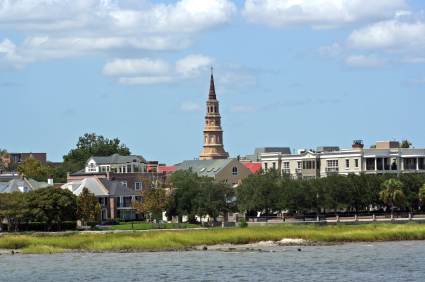 Charleston is so well known. The single house features a multi-story construction, one room wide, usually with gabled roof, sideways to the street. Along the southwest face of the house is a full-length columned porch, or piazza, which is entered by a door on the street, and from the piazza, a center door leads into the house. This construction was intended for no other purpose than keeping the house cool, as prevailing southwest winds would sweep the house end-to-end, while the piazza roof would shade windows from the sun.

The double house faces the street at full-length, and is characterized by a central entrance hallway running through the house, with drawing and living rooms on either side downstairs, and bedroom upstairs.

The Col. Robert Brewton House at 71 Church Street is one of the earliest surviving examples of the Charleston single house, dating to 1721, while the Elliott-Huger House at 34 Meeting is a fine example of an early double house. Both are brick structures covered with a layer of ornamental stucco, another common architectural technique in colonial Charleston which helped reduce the absorption of water from rain and humidity.

West down South Battery and up King, Meeting and Legare Streets are some of Charleston's finest examples of historically decorative architecture. The John Ashe House at 26 South Battery is built in the exquisite Italian Villa style, with arcades, bracketed cornices and round-headed windows. Atop the house is a domed cupola, which legend says was an early lighthouse, but whose classic purpose is to draw heat from the rooms below.

At 51 Meeting Street, the Nathaniel Russell House is one of the city's most splendid house-museums. Built of brick with white stone trim, the 1811 Adamesque marvel boasts a three-story, rising spiral staircase, oval drawing rooms and a balustered parapet. A block away at 27 King Street, the Miles Brewton House is considered perhaps the finest example of Georgian-Palladian architecture in existence. With ornate marble steps and platform and elliptical fanlight, the building's most remarkable feature is its extensive wrought iron barrier of "cheveaux-de-frise" which was added in 1822 after reports of an attempted slave uprising.

On Legare Street, stunning wrought iron gates and fences are the rule rather than the exception, and include the famed "Sword Gates" were added to the house at number 32 in 1838, while down the street are the equally-famed "Pineapple Gates" bordering the Adamesque brick house at number 14.

Charleston's wooden architecture is no less compelling, and on Broad Street stand the Edward Rutledge House at 117 and the John Linning House at 106, both famed 18th-century constructions. Over at number two Meeting Street is an outstanding Queen Anne style wooden house, now serving as an Inn, that legend says was built as a wedding gift in 1892 with $75,000 left on a satin pillow.

Find out about the Charleston gardens and some of the most beautiful spots in the city. Also, brush up on Charleston History