"REAL Charleston News Fall 2007"
WHAT'S GOING ON IN CHARLESTON...
Fall brings cooler temperatures and a colorful variety of events throughout the Charleston area, as it's time to get out and enjoy a wonderful mix of cultural events, recreation and fun.
The charming beauty of Charleston's historic landscapes an living spaces shows forth in the Preservation Society of Charleston's 31st annual Fall Tour of Homes and Gardens, Sept. 27th through Oct. 28th, Thursday, Friday and Saturday evenings only. Guided tours in candle light settings feature dozens of the city's most venerated sites and offer a wonderful experience in some of the most exquisite interiors and exteriors anywhere. For tickets and information, call 843-722-4636.
FEATURED CHARLESTON PROPERTIES
To view more Charleston area listings, please visit Charleston Real Estate
Halloween fun begins with the St. Paul Country Day School's always-popular Halloween Extravaganza, weekends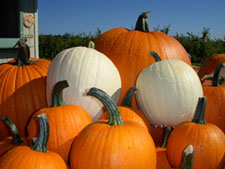 throughout the month of October on S.C. Highway 165 in Hollywood. Food and family fun are a major draw in an event whose centerpiece is an incredible hayride journey through a series of ghostly haunts and hideaways guaranteed to raise the hair on the head. For information call 843-889-1330.
For the younger set, a Fall favorite is the Charleston Corn Maize at Legare Farms on Johns Island, Fridays, Saturdays and Sundays throughout October. Hayrides, pumpkin-gathering and scarecrow-building are great ways to spend the day with the little ones in this friendly sea island farm setting. For information call 843-559-0788.
Another local favorite especially enjoyable in the crisp fall weather is the French Quarter Art Walk, Dec. 7th, downtown in the historic area bordered by Broad, Meeting, Queen and East Bay Streets. More than two dozen art galleries open their doors for those who love to peruse art as well as those who simply enjoy the artful atmosphere. For more information on this free event, call 843-577-7100.
CHARLESTON OUTDOORS

A drive through the scenic back roads of the ACE Basin is not only like a step back in time, but it also provides a glimpse of the future, because the 350,000 acres of protected wetlands and forest will still be as pristine and unspoiled in future generations. The ACE is an acronym for Ashepoo, Combahee, and Edisto, the three rivers whose waters give life and shape to the area. Meandering through a diverse landscape of cypress swamp, rice fields, old growth forest, salt marsh, and coastal estuary, the ACE's river-system has been cherished since ancient times as a thriving hunting ground, wildlife habitat, timber source and scenic homeland. It was the desire to protect its natural beauty and resources by establishing a conservation plan that assures the ACE will only be used for traditional cultivation and cultural purposes, and that the area will be a haven for many threatened and endangered species, including the great bald eagle, the American wood stork, the short-nosed sturgeon and the loggerhead sea turtle. One of the best places to enjoy the ACE is at the Bear Island Wildlife Management Area on Bennet's Point Road in Colleton County. Open to public viewing from February through mid-October, the area features lush wetlands and impoundments that attract an stunning annual migration that includes trumpeter swans, Canada geese, and a vast assortment of waterfowl.

CHARLESTON EXPLORER

As falling temperatures encourage a return to the the simple pleasures of strolling downtown Charleston, one enjoyable highlight is a visit with one of the many sidewalk weavers. Along both sides of Meeting Street just south of Broad, and at various locations around the city market, the ancient tradition of sweetgrass basket-making is played out by hand each day. Most weavers are older ladies, who learned their trade, as all in the sweetgrass community do, from previous generations. As they sit, surrounded by beautifully-woven baskets of every imaginable shape, they focus on the work that requires pain-staking hours and complete concentration. Pardon them if they aren't especially vocal, or are a little annoyed by those who only want to take pictures, for this is their workplace, this is their income, and although they want folks to enjoy the scene, they hope those who hover will make a purchase. After all, they had to go into snake-infested wetlands to gather strands of sweetgrass, bull rush, palmetto fronds and long-leaf pine, and use these simple ingredients to weave, stitch by stitch, baskets that may take weeks to finish. Using only a spoon handle, known as a "nail bone", they will work the varying strands into intricate patterns that show off color and design, while adding lasting strength. A finished basket will last a lifetime and is a direct tie to one of Charleston's oldest and most venerated cultural traditions. So enjoy a stop among those who keep the sweetgrass tradition alive, but remember to reward their efforts or continue on.
CHARLESTON TRIVIA
The original peninsular city of Charles Town was surrounded by a wall built around 1704, and was one of only four walled cities in North America. Made of combinations of stone, brick, wood and earth, the walls were meant to protect the city from invasions of pirates, French and Spanish from the sea, as well as Indian tribes from inland. After the city came under the protect of the British crown in 1720, the walls began to be dismantled, but many of the foundations remain. In the dungeon of the Old Exchange at the foot of Broad Street, sections of the wall can still be seen, and remnants extend all the way down East Bay Street beneath the sidewalk. Sections are also still intact beneath the pavement along Water Street, and the city plans an archeological dig and survey of one of the major redans, which was a defensive design that protruded outward, still existing at the corner of East Bay and South Adger's Wharf.
CHARLESTON ARCHITECTURE - Featured home: Miles Brewton House
The Miles Brewton House at 27 King Street is considered one of the finest examples of Georgian Palladian houses in America, and was headquarters for Lord Cornwallis and other English military leaders when Charleston was captured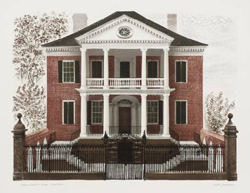 during the Revolution, as well as headquarters for Union generals after Charleston was evacuated in the Civil War. Built by Brewton between 1765 and 1769, the house features a two-tiered portico of Tuscan and Ionic columns of Portland stone, with a platform of paved marble reached by marble steps. Inside, both marble and mahogany carvings grace a grand stairway and drawing room, accented by the original crystal chandelier. Yet for all its charming beauty, the most striking and memorable feature of the house is purely there as a means of causing pain and suffering. Atop the wrought iron gates entering the property stretches one of the city's most noted examples of Cheveaux-de-Fries, a spiked iron barrier bristling with sharp, menacing points. Literally translated as "horses of Friesland", the term comes from an 18th century battle in today's Netherlands in which spiked defenses were used against cavalry. The concept was adapted in Charleston after a foiled 1822 slave uprising as a means of protecting homes from possible intruders climbing over gates. Find out more about Charleston's most famous addresses...

| | | | | | |
| --- | --- | --- | --- | --- | --- |
| Sold - August and September | Total | Avg List $ | Avg Sold $ | Avg DOM | %SP/LP |
| Downtown Charleston - South of Crosstown - Condos | 36 | $507,529 | $494,493 | 108 | 97.43% |
| Downtown Charleston - South of Crosstown - Single Family | 25 | $1,288,112 | $1,204,091 | 139 | 93.48% |
| Mount Pleasant North of Hwy 41 - Single Family | 56 | $456,212 | $437,467 | 128 | 95.89% |
| Mount Pleasant South of Hwy 41 - Single Family | 120 | $538,394 | $517,200 | 109 | 96.06% |
| James Island - Single Family | 72 | $354,061 | $341,547 | 107 | 96.47% |
| Kiawah Island/ Seabrook Island - Condos - both islands | 12 | $632,742 | $579,542 | 143 | 91.59% |
| Kiawah Island/ Seabrook Island - Single Family - both islands | 8 | $1,170,863 | $1,066,438 | 142 | 91.08% |
| Isle of Palms - Single Family | 12 | $2,272,583 | $2,088,750 | 201 | 91.91% |
| Daniel Island - Single Family | 32 | $845,155 | $814,258 | 38 | 96.34% |
| Sullivan's Island - Single Family | 8 | $2,501,750 | $2,272,813 | 155 | 90.85% |
| West Ashley - Single Family | 37 | $297,197 | $282,584 | 95 | 95.08% |
I would like to hear from you! If you have questions about a topic in this newsletter, Charleston SC or property in the tri-country area, please email or call me.
Charleston Real Estate
843-568-0595
www.CharlestonAddress.com
www.Locountry.com