Charleston, South Carolina

Update

"REAL Charleston News"

WHAT'S GOING ON IN CHARLESTON...

Sailing is a great tradition in the Charleston area and the summer season peaks each year with the fabled Rockville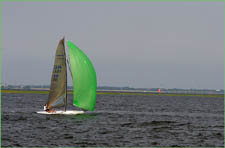 Regatta, August 5-7. Thirty minutes south of downtown Charleston on Wadmalaw Island, Rockville is a charming, historic village where families have gathered for more than a century for outstanding sailboat competitions. Today, the regatta is as much social as a sporting event, and more than 400 pleasure craft line picturesque Bohicket Creek for the spectacle. Just across from world-class Kiawah Island and Seabrook Island resorts, Rockville is an ideal diversion.
And for ears that prefer indoor air, the 2007 Classic Concert Series offers chamber music selections at the historic Great Hall inside the Old Exchange at 122 East Bay Street, July 31 and August 28. Presented by the Charleston Chamber Players and Charleston House Concerts, music dating to the 18th century will be performed in period attire inside the same venue where President George Washington was entertained in 1791. Tickets can be purchased at the Old Exchange or by calling 843-727-2165.
Sporting events light up the night in Charleston, as The Charleston Riverdogs take on South Atlantic League baseball competition with a series of theme nights throughout July and August at beautiful Joseph P. Riley, Jr. Park on the Ashley River. Friday night home games are always capped with a dazzling fireworks display from this cozy, family-friendly park. Across the Cooper River, the USL's Charleston Battery hits the pitch throughout July and August for exciting professional soccer at the gorgeous Blackbaud Stadium on Daniel Island. For ticket information, contact www.riverdogs.com or www.charlestonbattery.com
FEATURED CHARLESTON PROPERTIES
To view more Charleston area listings, please visit Charleston Real Estate
CHARLESTON OUTDOORS

For the nature-lover, July and August are exceptional for the city's many kayak and adventure tours and rentals. Warmer weather brings pristine estuaries and marsh creeks to life with an abundance of great blue herons, red-winged black birds, brown pelicans, glossy ibis, sandwich terns and great egrets. Mudflats seem in constant motion with the millions of fiddler crabs emerging for summer's feeding frenzy. Most enjoyable are the frolicking antics of dolphin and porpoise pods, which roam waterways thrashing the surface in a variety of leaps and tail slaps. These curious creatures will often surface next to paddlers and will sometimes propel themselves on nearby banks to catch fish in a behavior known as stranding. Sightseeing and eco-tours offer paddlers an impressive array of vantage points to take in Charleston and its surrounding natural areas, from waterfront views back at the city's famed Battery and steepled skyline, to historic Shem Creek shrimpboats and fishing docks and open expanses of spartina salt marsh lined with moss-covered oak trees. Contacts: www.coastalexpeditions.com, , www.barefootislandsports.com

CHARLESTON EXPLORER

Across the Cooper River at the Patriots Point Naval & Maritime Museum, the windswept decks of famed U.S. Navy warships present a stirring spectacle of patriotism, service and valor. The most visible of these is the 900-foot aircraft carrier U.S.S. Yorktown, which served from 1943-1976 and was awarded eleven battle stars in winning the nickname "The Fighting Lady". Flight and hangar decks are crammed with vintage aircraft that served on the Yorktown during World War II, the Korean War and in Vietnam, and there is also a flight simulator on board that allows visitors to take the controls for a mock dogfight and carrier landing. The Yorktown is also home to the newly-renovated Medal of Honor museum, with detailed backgrounds of every recipient of America's highest honor. The massive outdoor museum complex features full access to several other great ships as well, including the destroyer escort U.S.S. Laffey, which survived five kamikaze hits during the battle of Okinawa, as well as the U.S.S. Clamagore, one of the Navy's first "thick skin" diesel submarines capable of reaching depths of more than 300 meters. In addition, there's a life-size Vietnam-era Naval Support Base, featuring attack helicopters and river patrol boats. For information, contact www.patriotspoint.org
CHARLESTON TRIVIA
Hampton Park in the Northwest section of the city has been, over the years, a horse-racing track, a Civil War prison camp,
and a fantasy city. Today's circular drive around banks of azaleas and moss-covered oaks follows the path of the old Washington Race Course, laid out for horse-racing in the 1790's. In 1864, hundreds of Union prisoners were brought here from Georgia when Sherman threatened Confederate prison camps, and soldiers live in tents or in the open meadows. By 1901, these grounds were converted into a landscape of elaborate white buildings known as the "Ivory City" for the Interstate and West Indian Exposition, an international showcase of regional culture and history intended to draw business to Charleston. The Exposition was a financial failure and the Ivory City was torn down a few years later, leaving a reflecting pond and sunken gardens that became the center piece for a city park named opened in 1903 and named for former governor and Confederate hero Wade Hampton. (The Cotton Palace - Copyright Special Collections, College of Charleston Library)
CHARLESTON ARCHITECTURE - Featured home: Aiken Rhett House
The Aiken-Rhett House at 48 Elizabeth Street is a 23-room mansion built in 1818 and remodeled lavishly in the Italianate style by William Aiken, governor of South Carolina in 1844-46. The design was influenced by Italian villas the governor had seen on frequent trips to Europe, with extended wings creating a "piazza" or square for which city porches became known. The house is distinguished by an elaborate marble and iron-railed double stair entrance supported by Doric columns, leading to exquisite ballrooms upstairs where many of the fine furnishing and artwork collected by Aiken is still on display. It was here that Confederate President Jefferson Davis was entertained during the Civil War, and was briefly headquarters for Confederate defenders of the city. Inherited by the Rhett family, it was donated to the Charleston museum and is open to the public. Find out more about Charleston's most famous addresses...

Charleston Real Estate Update - It's good to know the facts.
Date: 7/10/2007
| | | | | | |
| --- | --- | --- | --- | --- | --- |
| Sold - May, June to July 24th | Total | Avg List $ | Avg Sold $ | Avg DOM | %SP/LP |
| Downtown Charleston - South of Crosstown - All Sales | 105 | $1,216,703 | $1,149,937 | 125 | 94.51% |
| Downtown Charleston - South of Crosstown - Single Family | 54 | $1,691,000 | $1,600,377 | 121 | 94.64% |
| Mount Pleasant North of Hwy 41 - Single Family | 89 | $497,490 | $481,664 | 109 | 96.82% |
| Mount Pleasant South of Hwy 41 - Single Family | 222 | $505,631 | $486,046 | 96 | 96.13% |
| James Island - Single Family | 133 | $334,884 | $413,842 | 95 | 96.33% |
| Kiawah Island/ Seabrook Island - All sales - both islands combined | 46 | $797,122 | $752,152 | 121 | 94.36% |
| Isle of Palms - Single Family | 15 | $1,669,960 | $1,561,950 | 223 | 93.53% |
| Daniel Island - All sales | 92 | $626,199 | $608,338 | 124 | 97.15% |
| Daniel Island - Single Family | 32 | $922,166 | $875,197 | 149 | 94.91% |
| Sullivan's Island | 11 | $2,951,250 | $2,675,438 | 277 | 90.65% |
We would like to hear from you! If you have questions about a topic in this newsletter, Charleston SC or property in the tri-country area, please email or call me.
Charleston Real Estate
843-568-0595
www.CharlestonAddress.com
www.Locountry.com

Charleston Real Estate News Archives
Summer 2006, Spring 2007, May 2007, Summer 2007, Early Fall 2007, Fall 2007
Downtown Charleston, West Ashley, Johns Island, James Island, Kiawah Island, Seabrook Island, Sullivan's Island, Isle of Palms (Wild Dunes), Edisto Island, Folly Beach, Mount Pleasant, Wadmalaw Island and Daniel Island

return to Charleston Real Estate home page