"Real Charleston News"
CHARLESTON OUTDOORS

If strolling Charleston's historic streets is to tame for the spring visitor, one of the most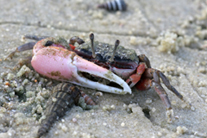 exhilarating experiences available is the chance to harness surf and ocean breeze or navigate sparkling streams and estuaries along the intracoastal waterway's of Charleston. Kite boarding and kayaking have become regular recreation throughout the many beaches and waterways surrounding Charleston, and what is most appealing is the sense of complete freedom and mobility in a natural setting without the sounds of engines or motors. Classes and rentals are available for beginners or the advanced, and offer a chance to paddle among the breaching dolphins or glide easily across pounding surf.

CHARLESTON EXPLORER

The newly renovated Charles Towne Landing state historic site, on James Island, is a fascinating island of adventure, wildlife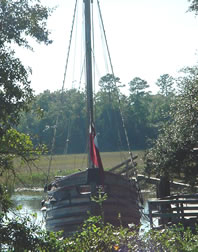 and living history within the city limits. Just across the Ashley River from the historic downtown area, this site was actually the original city, founded in 1670 as the first permanent European settlement in the Carolinas. The expansive site is an outdoor paradise of Spring flowers, towering oaks, and tidal creeks, and features on-going archeology into ancient Indian settlements as well as traditional ship-building work in the replica of a 17th century trading vessel. An animal forest designed by famed naturalist Jim Fowler offers magnificent views of natural habitat for species that have existed in South Carolina since 1670, including elk, black bear, bison, deer, fox, otter, alligator, bobcat and wolf. Self-guiding audio tours through miles of winding trails explain the contributions and influence of women and Africans on the early colony, as well as early agricultural techniques. For more information, call 843-852-4200.

CHARLESTON TRIVIA

Half of downtown Charleston is actually "made land" - creeks or wetland area that was filled in to make streets and lots. The highest point in the old city is only about ten feet above sea level and many streets and yards in the city are technically below sea level. Keeping water from rising has been a Charleston tradition, and the harbor barrier along the high battery has to be rebuilt numerous times up until the late 1800's due to intrusion from high tides and hurricanes. Keeping Charleston from sinking has also been a concern, as geologists determined in 1970 that the city as a whole had settled some eight inches since the 17th century. Old legends claim that there were once tunnels dug beneath city streets by pirates hoping to sneak into local taverns. Considering that you would hit water digging more than a few feet in most places, the tunnel tale is undoubtedly all wet. There are at least a dozen downtown streets that once were creeks or wetland - Can you name one?
VISIT www.CharlestonAddress.com - If you are looking for a new address in America's most enchanting coastal city, Charleston, you need only one address... www.CharlestonAddress.com.
CHARLESTON ARCHITECTURE - Featured home: Nathaniel Russell House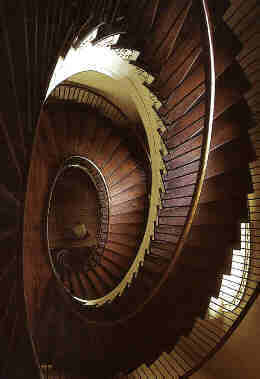 At 51 Meeting Street, the Nathaniel Russell House is one of the city's most splendid house-museums. Set amid beautiful gardens, this neoclassical dwelling and National Historic Landmark is considered one of America's most notable homes. Built of brick with white stone trim, the 1808 Adamesque marvel boasts a three-story, rising spiral staircase, oval drawing rooms and a balustered parapet. For more information - Phone: (843) 724-8481 Find out more about Charleston's most famous addresses...

CHARLESTON REAL ESTATE UPDATE - It's good to know the facts.
1st Quarter 2007 - Single Family Homes
| | | | | |
| --- | --- | --- | --- | --- |
| Sold | Total | Avg List $ | Avg Sold $ | Avg DOM |
| Downtown | 30 | $1,076,057 | $1,019,442 | 122 |
| Mount Pleasant out to hwy 41 | 205 | $542,528 | $520,270 | 118 |
| Mount Pleasant past hwy 41 | 85 | $507,112 | $488,876 | 124 |
| James Island | 133 | $359,182 | $347,969 | 83 |
| Kiawah Island/ Seabrook Island | 15 | $1,468,227 | $1,377,467 | 148 |
| Sullivan's Island | 2 | $2,247,500 | $2,200,000 | 223 |
| Daniel Island | 37 | $901,595 | $867,938 | 111 |
Charleston Real Estate

www.CharlestonAddress.com
www.Locountry.com
Summer 2006, Spring 2007, May 2007, Summer 2007, Early Fall 2007, Fall 2007