Luxury homes for sale - Charleston South Carolina
HOME DOWNTOWN CHARLESTON MOUNT PLEASANT SULLIVAN'S ISLAND DANIEL ISLAND JAMES ISLAND
WEST ASHLEY JOHNS ISLAND CONDOMINIUMS WATERFRONT LOGIN
Simply click on this link to find all Luxury Properties available in the Charleston MLS that match your criteria....
Visit the buying information page for things like tax information or send an email about luxury properties.
Quick Links: Historic real estate listings, Golf Course Homes for sale, Beach properties for sale and Deepwater retreats
Luxurious living is as characteristic of Charleston as the regal antebellum mansions that grace its historic streets. A city that
was considered the jewel of Britain's colonial empire has not lost its zest for comforts, elegance and quality, as today's Charleston boasts a premiere array of exquisite homes and neighborhoods, acclaimed private schools, award-winning restaurants, stylish retail sectors and specialty shops, chic art galleries and theaters, equestrian facilities, as well as world-class golf courses and marinas.
We know the luxury market well and can help national and international buyers alike. The photo pictured on the right is of a home on Legare Street, one of the most beautiful streets in all of Charleston. Another of Charleston's beautiful streets is the famed Church Street. Home to the Dock Street Theater, Heyward-Washington house, and many other notable buildings. Find out more about this cities beautiful streets on our Charleston's Top 5 page.
Luxury Gated Communities: Wando Farms, Kiawah Island, Seabrook Island, Briars Creek, Rivertowne, Beresford Creek, Wild Dunes, Dunes West, Charleston National, Ashley Harbor, Headquarter's Island, Raven's Run, Dockside, Middleton Oaks, The Hammocks, Stono Ferry, Marsh Harbor, Poplar Groves, Anchorage Plantation, Jeremy Cay, Waterfront Plantation
The downtown peninsula is renowned for a wealth of classic houses dating to the 18th and 19th century that have been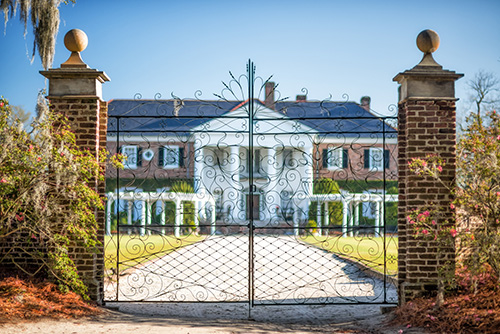 meticulously restored in historic exterior detail while featuring dazzling interiors fully-equipped with luxury upgrades in kitchens, bathrooms, and climate control. In the famous area South of Broad, historic church bells and scents of sweet magnolias fill the air sweeping through spacious piazzas and ballrooms built long ago for Charleston's elite political and merchant class. In the quaint streets of Ansonborough, elaborate Greek Revival styles prevail with majestic pillars and delicate ironwork, as the neighborhood developed during Charleston's golden era as one of America's wealthiest cities before the Civil War.
Mount Pleasant, SC offers many choices when it comes to luxury neighborhoods and you are only minutes to downtown Charleston. There are waterfront and established neighborhoods such as Old Village, Hobcaw Point and Molasses Creek. New favorites are Olde Park and Ion Village very conviently located near great shopping and the Ravenel Bridge.
Luxury home sites in the modern era reflected the inclination to more spacious natural surroundings, as mid-twentieth century neighborhoods such as The Crescent, Wappoo Heights and The Country Club featured grand homes in the shadow of giant oaks and pines along Wappoo Creek in an area once reserved for elite outdoor events called The Pleasure Grove.
The late 20th century offered a new look in Charleston's luxurious standards, as the city expanded on lush Daniel Island. Historic architectural motifs were recreated in homes set on stunning landscapes overlooking pristine tidal creeks and manicured golf courses. Delicate egrets and graceful herons add a lively beauty to this fantasy island of modern, state-of-the-art living in homes fashioned to recreate the grandeur of colonial and antebellum Charleston.
Simply click on this link to find all Luxury Properties available in the Charleston MLS that match your criteria....