French Quarter - Historic Downtown Charleston South Carolina
HOME DOWNTOWN CHARLESTON MOUNT PLEASANT SULLIVAN'S ISLAND DANIEL ISLAND JAMES ISLAND WATERFRONT
Discover

French Quarter

homes for sale in downtown Charleston, SC.

Click here to view a complete list of properties in the French Quarter Charleston neighborhood area

Ansonborough, Harleston Village, Mazyck-Wraggsborough, Radcliffborough, South of Broad


Cannonborough, Elliottborough, Midtown, Wagener Terrace, Hampton Park Terrace

Graced with quaint theaters and art galleries, historic church steeples, cobblestone streets, and an atmosphere of relaxed luxury,
Charleston French Quarter is an island of bohemian delights within America's most historic city.
A quiet residential area of graceful homes and gardens, the quarter is surrounded by cozy restaurants, fashionable retail shops and lively entertainment venues. Featuring property that comprised much of the original walled city dating back too 1704, French Quarter eccentricities include old pirate taverns and tunnels dating to colonial days, the nation's only and most famous French Anglican church, and the old theater where Planter's punch was first concocted, and centuries-old graveyards where ghost tours are still the rage.
Part of the National Historic Register for its concentration of 18th and 19th century architecture, the French Quarter boasts some of the city's best examples of early Georgian single houses, airy piazzas and verdant courtyard gardens.
French Quarter MLS Listing Quick Search:
Popular French Quarter Condominiums and Townhomes: Vendue Range, The People's Building
Among Charlestonians, the French Quarter retains a reputation as an artistic and cultural haven for the many exclusive galleries, sidewalk artists, and breathtaking scenes along its fabled streets.
Just north of Broad Street and bounded by the old city market and vibrant Meeting and East Bay streets, the French Quarter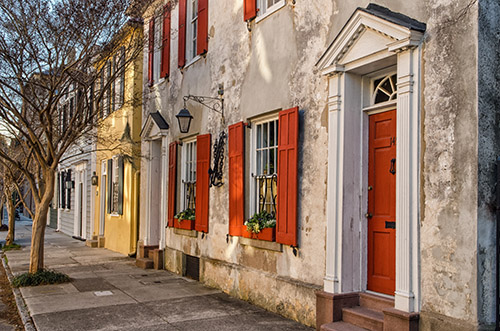 is both a fashionable and convenient address for the active and culturally involved Charleston resident.
Highlights: St. Philip's Church, French Huguenot Church, Dock Street Theater, Old Powder Magazine, Trott's Cottage, Old Slave Mart Museum, Pink House Gallery  Have a few minutes? Take a walking tour of the French Quarter.
Notable Homes and Buildings and fun facts: Picturesque scenes can be found on every corner of the French Quarter, and in the street as well. St. Philip's Episcopal Church stands prominently in Church Street, the pavement actually bending around the impressive triple-portico of Doric Columns, topped by a 190-foot steeple of brick and stucco. Down the street, the Dock Street Theater dazzles with an exterior façade of Brownstone columns beneath a decorative second-story wrought iron balcony. Around the corner on Chalmers Street, a bright pastel exterior and a classic clay-tile Gambrel roof highlights the stunning Pink House Gallery, while down Cumberland Street, three-foot thick walls, colonial cannons and cast-iron bracing bolts distinguish the Old Powder Magazine Museum. The house at 141-3 Church Street is unusual in several ways. It is one of only a handful of houses built with Bermuda Stone, a soft coral stone mined from the Caribbean in the early 1700's. The façade is covered with a layer of painted stucco, but the large blocks of Bermuda Stone are visible looking down its south side. Used as a tavern in the colonial period, the house is legendary for its "Pirates' Courtyard" area in the back, entered by a narrow wrought iron gate. The classic story is that pirates, who had prices on their heads in old Charleston, would sneak into the courtyard to enjoy drinks and wenches from ships that lay anchored offshore. Skulking through the streets in the dark from rowboats, the pirates did not dare enter the tavern from the front, but from the dark passageway on its north side. The tavern became a residence by the 19th century, and ironically was remodeled in the early 20th century by using parts of a former tavern to restore its handsome features.
Neighborhood Restaurants and Shopping: Quaint alleys add to the old-world feel of the neighborhood, and a quiet stroll down Philadelphia Alley or Lodge Alley feels like wandering back through time. Down Unity Alley, there's a flavorful stop at historic McCrady's Restaurant, and the French Quarter's East Bay Street corridor features some of the city's most popular restaurants, with delightful menus and atmosphere at notable establishments such as Magnolia's, Slightly North of Broad, High Cotton, Grill 225, and Blossom Café.

Click here to view properties in the French Quarter Charleston neighborhood area
More Notable Buildings and Homes:
French Huguenot Church - Charleston's many historic architectural styles include the unusual Gothic Revival look of the French Huguenot Church. Designed by Charleston native Edward Brickell White and completed in 1845, the structure at the corner of Church and Queen streets displays a pious grandeur. The Huguenots were Calvinists, and believed in simplicity and restraint in their symbols worship. The church's arched design in ceiling, windows and doorways replicates hands clasped in prayer, pointing to heaven, and instead of the glitter of a towering steeple, features a series of cast-iron finials projecting from a more modest height. White was a West Point graduate who enjoyed an engineering challenge, and to create his vaulted interior ceiling, he designed exterior buttresses to produce a cantilevering stress outward and upward. No stained glass adorns the prudent church, but the Huguenots do have inside the chancel one of the most incredible musical instruments ever made. The 1845 pipe organ was made by the New York's famous Henry Erben company, and is the oldest church organ in Charleston. Standing majestically above the chancel in a carved cedar case, its massive rows of pipes were initially filled by a bellows pumper, accompanying the organist who played the instrument.
More Restaurants:
Amen Street Fish and Raw Bar - A comfortable setting in an historic location with traditionally popular fare has made the new Amen Street Fish and Rawbar Restaurant aqt 205 East Bay Street an instant hit in Charleston's French Quarter. The beautifully-appointed antebellum exterior features a Greek Revival motif of cast-iron Corinthian columns that have welcomed patrons along busy East Bay Street since sailing ships were docked on wharves nearby, and for many years was adorned by the "sign of the whale" that indicated paints and oils were sold. The restaurant, located at the corner of East Bay and Cumberland streets, takes its name from the thoroughfare called Amen Street that was changed to Cumberland in 1839 to honor the Duke of Cumberland. Prior to that, legend says, the old street got its name by running under the shadow of old St. Philip's Church, where passersby offered salutation on their way to the fish market. Today, steaming aroma of oysters, clams, shrimp and fresh fish is revived in a relaxing setting of comfortable booths and tables, overlooking the historic East Bay Street area.
Ansonborough, Harleston Village, Mazyck-Wraggsborough, French Quarter, Radcliffborough

Cannonborough, Elliottborough, Midtown, Wagener Terrace, Hampton Park Terrace, South of Broad