South of Broad - Historic Downtown Charleston South Carolina
Call us at 843-568-0595 or send an email
Return to DOWNTOWN CHARLESTON area page or Search the all MLS LISTINGS
Discover Charleston SC

South of Broadhomes for sale in historic, downtown Charleston.
Click here to search MLS for properties in the South of Broad Charleston neighborhood area

For centuries, historic peninsular Charleston's most desirable and distinctive address has been South of Broad Street
neighborhood. It was in these grand old homes that George Washington slept, Robert E. Lee dined, and Teddy Roosevelt socialized. From these same magnificent piazzas, Charlestonians watched the firing on Fort Sumter that began the Civil War, and today host grand soirees for the internationally-acclaimed Spoleto Arts Festival.

Quick Search: Downtown Charleston homes with water views.

The scale of stunning historic architecture and interiors throughout the South of Broad area sets it apart from any city in North America. Regal Georgian gables and paneling, detailed Adamesque staircases and moldings, ornamented Greek Revival columns and parapets, elaborate Italianate arches and cornices, and decorative Victorian turrets and chimneys sweep the South of Broad area with a graceful diversity of classic styles.

Popular South of Broad Condominiums and Townhomes: Chisolm, Fort Sumter House

South of Broad MLS Listing Quick Search ~ Contact an agent that knows historic Charleston real estate. :

Flanked by moss-laden oaks and sculpted gardens, the picturesque street scenes South of Broad display an unmatched timelessness etched into an intricate blend of wrought iron gates, slate sidewalks and cobblestone pavement.

Each block offers a sensory splendor, as bells of colonial church steeples blend with the sounds of horse-drawn carriages and restless Carolina wrens. Spring, summer, fall and winter all boast flowering plants and trees South of Broad, as the air sweetens with jasmine, magnolia, tea olive, and seasons brighten with banks of camellia, azalea and rose.
For the prospective homeowner, South of Broad's value is incomparable as an investment or a prestigious address. Properties for sale here are the rarest of the rare jewel that is historic Charleston, and feature some of America's most famous homes and gardens and some of the East coast's most stunning views.
Charleston Walking Tour: Take a self guided tour South of Broad. Or visit other downtown Charleston neighborhoods pages:

Ansonborough, Harleston Village, Mazyck-Wraggsborough, French Quarter, Radcliffborough
Cannonborough, Elliottborough, Midtown, Wagener Terrace, Hampton Park Terrace

Highlights:

The Battery, American Military Museum, White Point Gardens, DeSaussure House, Edmond-Alston House, Rainbow Row,
Nathaniel Russell House, Calhoun Mansion, Miles Brewton House, Heyward-Washington House, Cabbage Row, St. Michael'sChurch, Four Corner's of Law, Waterfront Park, The Old Exchange and Provost Dungeon, www.HistoricCharleston.org
Notable Homes and Buildings and fun facts: The South of Broad area features four sensational museum houses that are worth a visit to appreciate the detailed beauty of various architectural styles and eras of the city. The Heyward-Washington House at 87 Church Street is the oldest, built in a Georgian double-house style in 1772 for Thomas Heyward Jr., signer of the Declaration of Independence, and visited by George Washington in 1791. The 1811 Nathaniel Russell House is exquisitely-detailed in hand-carved mantels, wainscoting and an amazing three-story curved staircase of Honduran mahogany built without using a single nail. The 1819 Edmonston-Alston House has a stunning view of Charleston Harbor and a wealth of Regency architecture in its ballustraded parapet and, frieze and ornate piazzas. The Calhoun Mansion is the largest at 24,000 square feet, built in 1876 with an incredible luxuriousness that features carved vermiculation in the windows, stone quoins, Acanthus leaf capitals, and no fewer than 32 fireplaces.
The Col. John Ashe house at 32 South Battery was built shortly after the Revolutionary War, and includes a very impressive cupola on its roof that makes the look of the structure so unique. The round, domed cupola is covered by windows that can be opened to allow warm air to flow from the house below, and also provides a skylight to brighten the upper floor. Today, the Ashe house faces White Point Garden, but when it was built, the front door overlooked a wharf area called South Bay. Ashe was a successful merchant in Charleston, and legend has
it that the cupola was used as a lighthouse marker for incoming ships. The beautiful wooden structure is designed in the attractive double-house configuration with an elegant two-story portico topped with adecorative balustrade. It was one of the first houses in 20th century Charleston to sell at a high price in the for its historic value, bringing the astounding amount of $80,000 in the 1930's.

George A. Trenholm once owned the property located at 54 King. He was the secretary of the treasury of the ConfederateStates of America. George Trenholm is reputed to be the prototype for Margaret Mitchell's character Rhett Butler in "Gone with the Wind".

Neighborhood Restaurants and Shopping: The Oak Steak House and Carolina's are the only restaurants in a South of Broad area that is primarily residential, but both offer grand menus in historic settings with valet parking and a truly off-the-beaten-path experience. Fast and French (G & M) located on Broad Street is a favorite of the locals. Taste the Paella, any of the Soups, and the daily special is always worth a try! Husk is another neaerby favorite. If you are looking for light fare, Try Bin 152 for a glass of wine and delicious cheeses and more.
Click here to search MLS for properties in the South of Broad Charleston neighborhood area
More Notable Buildings and Homes:
Nathaniel Russell House Museum – Of the six museum houses in Charleston, the Nathaniel Russell House at 51 Meeting is the only one built by a New England native. Russell was a Rhode Islander who moved to the city to make his fortune before the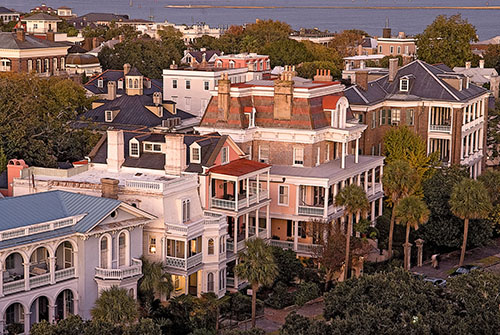 Revolution. In 1808, construction was begun on his elegant Meeting Street home, and expense was seemingly no object in the beauty and skill of craftsmanship therein. Finished in 1811, the house features both Adam and Regency styles, with a ballustraded parapet above Flemish bond brick veneer, highlighted by splayed marble lintels and an iron balcony wrought with Russell's initials. As eye-catching as the exterior is, the interior is the most awesome. The most spectacular feature is a three-story, winding stair made without a single nail, pieced together, mortise-and-tenon style. Ornate mantels, plaster ceiling medallions, delicate wallpaper, and exquisite colonial furnishings are all on display for visitors who are given 30-minute tours by staff docents. Of the many interesting stories about the house is the fact that it was once a convent, sold in 1870 to the Sisters of Charity of Our Lady of Mercy, who ran a school for young ladies in the house for three decades.

South of Broad, Ansonborough, Harleston Village, Mazyck-Wraggsborough, French Quarter, Radcliffborough

Cannonborough, Elliottborough, Midtown, Wagener Terrace, Hampton Park Terrace