South of Broad Walking Tour- Historic Downtown Charleston South Carolina
HOME DOWNTOWN CHARLESTON MOUNT PLEASANT SULLIVAN'S ISLAND DANIEL ISLAND JAMES ISLAND WATERFRONT

Self Guided Walking Tour of Charleston - South of Broad
WALKING HISTORIC DOWNTOWN CHARLESTON
SOUTH OF BROAD - BATTERY TOUR
Begin on Charleston's southeastern tip, at the confluence of East Battery Street and Murray Boulevard, where an old local saying claims that the Ashley and Cooper Rivers meet to form the Atlantic Ocean. From this panoramic vantage point, overlooking historic Charleston Harbor on one side and beautiful
gardens and rows of palatial antebellum mansions on the other, moving in any direction may take some will power. It was from this spot that cannon roared with the opening salvos of the Civil War, and where great fleets of war ships and merchant vessels have passed for centuries. Originally a shell bank covered with oysters bleached white by the sun, the area was called White Point by early settlers, who set up lookouts and fortified defenses here in the late 1600's. Today, the oyster shells are covered by filled land and a the tree-lined park area known as White Point Gardens, while where gun batteries faced the sea is a waterfront bulwark commonly called The Battery.
This elevated waterfront walking promenade and surrounded by great oaks, brilliant azaleas and dazzling oleanders, it is still Charleston's favorite observation point. The wide granite and cement walkway is often sprayed with drops of saltwater that lap against its facing, and from this breezy perch, onlookers can see the barrier islands that ring the city, as well as historic fortifications at Fort Sumter and Castle Pinckney that rise from sandbars and islets in the harbor. Most days bring flotillas of sailing and power boats, as well as massive freight ships and their tug boats moving up and down the harbor channel. In the distance, people on The Battery can see historic lighthouses, classic shrimp boats on their way to sea, the famed World War II carrier U.S.S. Yorktown across the Cooper River at the Patriot's Point Maritime Museum, and the towering cable-stay Ravenel Bridge that links Charleston and Mount Pleasant.
In White Point Gardens, genuine Civil War cannon and other monuments still stand defiantly throughout shaded areas where families gather for picnics and pedestrians feed squirrels and sea gulls. Once fearsome Dahlgrens, Columbiads, rifled guns, howitzers and seacoast mortars only flash with camera lenses today, and represent some of the most memorable conflicts in American history. Perhaps the most interesting armament is the "Keokuk gun" at the northeast corner of the park - a hulking cannon that came to Charleston during the Civil War aboard the Federal ironclad U.S.S. Keokuk, which was sunk in 1863 by Confederates and its gun retrieved for use in the city's defense.
If walkers can bear to leave White Point Gardens and The Battery, they should head north along East Battery Street and famed "Battery Row". These two blocks of magnificent houses date to Charleston's glory days as one of America's wealthiest ports in the early 1800's, featuring mesmerizing architectural details that represent the best in Greek Revival, Italian Renaissance Revival, and Regency styles. Most tourists enjoy walking along the Battery promenade on the East side of the street to get a wider perspective, but equally impressive to stand in the shadow of these great houses to marvel at their scale and intricate beauty.
Moving past the 1828 Roper House at 9 East Battery, consider that a parts of a Confederate cannon are still lodged in its rafters. In 1865, the huge gun was mounted where the Keokuk gun is today, but was purposely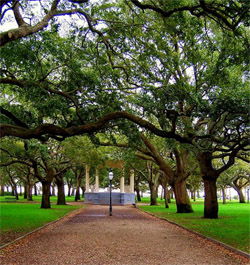 blown up when the city was evacuated to avoid falling into enemy hands. Instead, it flew over two houses and is a permanent fixture at the Roper House today. Next, notice the seemingly jutting lower porch of the 1845 William Ravenel House at 13 East Battery. This was originally the base of a two-story portico crowned with Corinthian columns, but an earthquake that hit the city in 1886 literally shook them to the ground. Another noteworthy aspect to take in wandering up the street is to notice the distinctive "earthquake plates" on many of the houses in the city. After the 1886 earthquake struck, numerous buildings were reinforced with metal bolts that stretched through joists from wall to wall and were anchored by the exterior plates. The addition became so fashionable that walkers will notice a variety of plate shapes, ranging from stars to crosses.
If impressive stories, facades replete with elaborate cornices, columned piazzas, wrought iron balconies, and stuccoed quoins are not enough, the exquisite Emondston-Alston House at 21 East Battery is on tour as a house museum. Built between 1817 and 1828, the house combines Regency and Greek Revival styles and features lavish interior woodwork and furnishings.
As East Battery continues North, it becomes East Bay Street, which historically faced Charleston Harbor and rows of great shipping wharves. Passing quaint intersecting pedestrain lanes of Stoll's Alley and Longitude Lane, pedestrians will notice sidewalk markers with names such as South Adgers Wharf, now a cobblestone street built atop the historic slips where sailing vessels were tied. At the foot of South Adgers Wharf, harbor waves currently lap along the promenade of Waterfront Park, a delightful area featuring two large fountains - one in the shape of a pineapple, the traditional symbol of welcome.
Walking west along North Adgers Wharf takes pedestrians back to East Bay Street, facing what is perhaps Charleston's most famous location, Rainbow Row. This full block of thirteen Georgian-style row houses dates to the mid 1700's, when they were operated as counting offices downstairs and residences upstairs. With their fortunes and stucco facades faded by the early 1900's, restoration efforts by owners included painting exteriors in a spectrum of pastel, colors now preserved by city ordinance and extensively painted and photographed.
Just a few steps north, at the intersection of East Bay Street and Broad Street, the Old Exchange and Provost Dungeon stands prominently. Built in 1767 as a customs and storage facility for the burgeoning sea trade, this stunning Georgian-Palladian building features Portland marble trim and a distinctive cupola. It was at the building's basement level that pirates and Revolutionary War patriots were held prisoner, and in its great ballrooms that George Washington was feted on his presidential visit in 1791, and today both are open to public tour.
Heading west, Broad Street extends to the banks of the Ashley River, offering an incredible variety of historic sights along the way. As Charleston's original business and legal district, Broad Street features a fascinating array of centuries-old courthouses, banks and commercial offices, as well as an eclectic assortment of memorable building styles representing different historical periods. Elaborate facades of Connecticut brownstone, Quincy granite, and Italian marble grace what are still used as courts, banks and business offices along blocks lined with palmetto trees and slate sidewalks.
At 1 Broad Street, lions head keystones gaze down from the 1853 Italian Renaissance bank whose early owner, George Trenholm, was a duelist and blockade runner from whom Rhett Butler was modeled in Gone With the Wind. The Classic Revival building at 16 Broad has served as a bank since 1817, and since that date has been distinguished by a remarkable bald eagle of gilded oak set in its pediment. At 18 Broad is Charleston's lone "skyscraper", a
1910 construction of Winnsboro granite and terra cotta facing where the first level today features one of Broad Street's many fine art galleries. At 17 Broad, the 1848 Italianate bank building is today home to one of Charleston's most acclaimed restaurants, The Oak Steak House. The exquisite plaster and wood interior design creates a sensuous ambience for a superb dinner menu of featured steaks that garnered the restaurant a AAA Diamond Award and Wine Spectator Award of Excellence.
Turning South at the corner of Church Street, pedestrians will notice an unusual painting in the stucco side wall of 47 Broad. The artwork depicts a man whose body parts are made up of a variety of hats, and dates to the late 1800's when the building sold hats and other dry goods. A few steps away at 89-91 Church Street is a stuccoed tenement with a central arch that was once known as "Cabbage Row". In the early 1900's, black tenants sold cabbages from the windowsills to passersby, which inspired Dubose Heyward's "Catfish Row" of his famed novel Porgy. Next door, the 1770 Heyward-Washington House bears the distinctive diamond plaque designating historic significance as a site where George Washington stayed. Built by Thomas Heyward, a signer of the Declaration of Independence, the historic residence is operated as a house museum, featuring such notable interior work as the extravagant mantel carved by famed Charleston craftsman Thomas Elfe.
Church Street wends its way south along rows of stately houses renowned for their flourishing gardens and wrought ironwork. The Robert Brewton House at 71 Church dates to 1720, and was the first in North America to be adorned with stucco quoins, presumably added to create a look of greater expense by having the home's corners resemble marble blocks.
The Greek Revival First Baptist Church at 61 Church Street was built in 1822 by famed designer Robert Mills, and is considered the mother church of Southern Baptists, while the Georgian house next door at 59 Church dates to 1733, and is reputed to be haunted by the ghost of Dr. Joseph Ladd, who was killed in a 1786 duel. Across the street at 50 Church Street was the site of the 18th century Mariner's Church, which was demolished in 1752 after a ship crashed through it during a hurricane. This odd occurrence was made possible by the fact that intersecting Water Street lies atop the bed of an ancient creekbed, and was once crossed by a bridge where Church Street meets it today. Continuing South, Church Street turns to brick pavement and narrows noticeably in its path along statuesque houses that date as early as the 1730's. The recommended pace on lower Church Street during the Spring, Summer and Fall blooming seasons is slow, as many homes feature tantalizing gardens that can be enjoyed with views through gates or down driveways that might be completely missed in a passing car.
Church Street ends at the intersection of South Battery Street, where turning West affords a grand view of elegant mansions facing White Point Gardens to the South. At the corner of South Battery and Meeting Street is the enticing Two Meeting Street Inn. This adorable Queen Anne style construction was built in 1892 and financed, according to legend by a $75,000 wedding gift left on the bride's pillow. Featuring beautiful gardens and a delightful arched piazza ideal for morning coffee or afternoon tea, the intimate bed-and-breakfast inn is a favorite for romantic getaways and for those who want a uniquely authentic Charleston experience.
A stroll North along Meeting Street is like walking back through history, as this oak-lined avenue of historic homes and churches epitomizes the timeless charm and enthralling atmosphere of the enchanting city. The Josiah Smith house at 7 Meeting was built in the 1780's and although seemingly made of wood, has walls of brick insulation within the framing timbers.
The Calhoun Mansion at 16 Meeting is considered one of America's best examples of Victorian architecture. With 24,000 square feet of living space, this 1876 gem features 14-foot ceilings, carved plaster and woodwork, and impeccable furnishings. Operated as a house museum, tours are give daily.
30 Meeting Street is another pre-Revolutionary structure that has an interesting story. Hessian mercenaries fighting for England were headquartered here during the British occupation of Charleston in 1780, but when the British evacuated two years later, the Hessians his inside the house chimneys to avoid having to return to Europe.
The stucco mansion at 37 Meeting dates to the 1770's and was briefly the Civil War headquarters of Charleston's Confederate commander, Gen. P.G.T. Beauregard, who legend claims still haunts the house.
The 1768 Daniel Huger house at 34 Meeting is a classic example of a Charleston "double" house, featuring entrance into a central hallway that separates drawing rooms on either side. Once home to the last of England's Royal Governors, the house was bombarded and looted by Federal troops during the Civil War.
Don't miss the Nathaniel Russell House at 51 Meeting, built in 1808 and considered one of the finest examples of Adamesque architecture in America. Featuring a dazzling garden filled with blooms and centuries-old Magnolia trees, the stunning interior and exterior details of the house are highlighted by a magnificent free-flying staircase that rises three floors without any visible support.
At 57 Meeting, the First Scots Presbyterian Church dates to 1814, and features distinctive twin towers rising above a columned portico and the seal of Scotland over the main entrance. Like many churches throughout the city, First Scots is blessed with marvelous acoustics and hosts chamber concerts during the Spring Spoleto Festival.
If the sun is too hot or there's a hint of rain, feel free to relax under the piazza of the 1760's Branford-Horry house at 59 Meeting, which is built over the sidewalk and was for many years the city's most historic bus stop.
South Carolina Society Hall at 72 Meeting was built in 1804 by a city organization of French Huguenots devoted to the relief of the poor, which was called the "Two Bit Club" during the 1700's, referring to the standard donation. Considered one of the city's most important Adamesque buildings, the hall features a grand double portico with Doric and Ionic columns.
The stucco house at 69 Meeting dates to the 1790's and features one of Charleston's most enticing gardens, which like so many in the downtown area is easily enjoyed from the sidewalk.
Approaching the intersection of Meeting and Broad, walkers will notice a number of basket weavers making and displaying their wares along the sidewalk. These intricately-woven designs are made from bulrush, palmetto fronds, long leaf pine and sweetgrass, the latter plant giving the baskets their distinctive name and aroma. It's worth a stop just to watch the weavers at work, a skill handed down through many generations of descendants of African slaves. Using only a single weaving tool, typically a broken spoon handle called a "nail bone", the weavers will work for many hours to create beautiful designs and shapes that historically functioned as storage and for carrying, but today are purely ornamental.
The Broad Street intersection with Meeting Street is known as the "four corners of law", featuring, from Southwest moving clockwise, the 1892 U.S. Courthouse(federal law), the 1787 County Courthouse(county law), the 1800 City Hall(city law), and the 1762 St. Michael's Episcopal Church(God's law).
St. Michael's is Charleston's oldest church building, and has served the city as an observation post during the Revolutionary and Civil Wars and as a fire tower until the 1880's. The church bells in the 186-foot tower are original, and are still pealed gloriously by hand-ringers. Every foot of the dazzling interior has a remarkable story - from the original pulpit that still bears the scars of Union Civil War shells; to the 1803 brass chandelier that was painted black in 1865 to prevent looters from stealing it; to pew number 43, in which both George Washington and Robert E. Lee attended services.
The church graveyard is a memorable visit a well, with beautiful wrought iron gates dating to the 1770's, and historic gravemarkers that reveal a number of eminent Charlestonians, including two signers of the Constitution, John Rutledge and Charles Cotesworth Pinckney.
Try another: French Quarter Walking Tour
Charleston History Overiew
Return to Charleston Real Estate homepage or Search for Waterfront Properties
South of Broad, Ansonborough, Harleston Village, Mazyck-Wraggsborough, French Quarter, Radcliffborough

Cannonborough, Elliottborough, Midtown, Wagener Terrace, Hampton Park Terrace