IntraCoastal Waterway - Deepwater homes in Charleston South Carolina
HOME DOWNTOWN CHARLESTON MOUNT PLEASANT SULLIVAN'S ISLAND DANIEL ISLAND JAMES ISLAND
WEST ASHLEY JOHNS ISLAND CHARLESTON RELOCATION CHARLESTON AGENTS PROFILE
Visit the buying information page for tax information on Charleston property.
Charleston's history, charm and beauty make the city one of the world's most popular destinations for visiting and
relocating. Unlike many tourist destinations, a considerable number of visitors don't arrive by land or air. They arrive by boat, via the Atlantic Intracoastal Waterway.
I have complied a list of some of the more popular neighborhoods with views or access to intracoastal waters. On step 4 of the Charleston MLS search page you can type in neighborhoods of choice. Not every neighborhoods will have active listings.
The Atlantic Intracoastal Waterway stretches from New York. to Key West, Florida., and Charleston is a favorite port of call for boaters traveling from Point A to Point B along the waterway and for a growing contingent of tourists embarking on Intracoastal cruises.
For boaters arriving via the Atlantic Intracoastal Waterway, Charleston boasts three large marinas – the largest being the Charleston City Marina with 19,000 feet of dock space covering 40 acres of water. Among the City Marina's docks is the so-called MegaDock, which extends more than a quarter of a mile into the water. Not surprisingly, the MegaDock is the longest free-standing, floating fuel dock in the Southeast.
Mount Pleasant, Sullivan's Island and Isle of Palms are situated along South Carolina's intracoastal waters as well. The backside of the islands are a favorite second home and ful time options if the beach and boating are of interest.

Beyond the center of historic Charleston, Harborage and the Ashley Marina on the Ashley River side of Charleston Peninsula offer dock facilities and townhomes for travelers and residents along the Atlantic Intracoastal Waterway.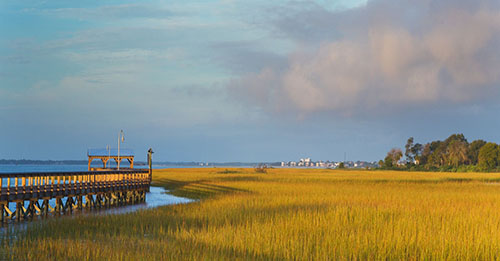 For permanent residents of Charleston, the Atlantic Intracoastal Waterway is growing in popularity with home buyers and real estate investors, who appreciate the natural and protected beauty of the inland waterway.
In 1936, the last segment of the 1,435 mile intracoastal waterway was completed in Horry County not too far from Mytle Beach.
***To get a more detailed list of neighborhoods on the water, please visit the Waterfront section of this site.
Intracoastal - Deepwater - Tidal Creek - Marsh View - Oceanfront