Homes for sale in Mt. Pleasant
Search Mount Pleasant Neighborhoods
listings displayed on Google maps by neighborhood
Mount Pleasant has become one of the most desirable place to live on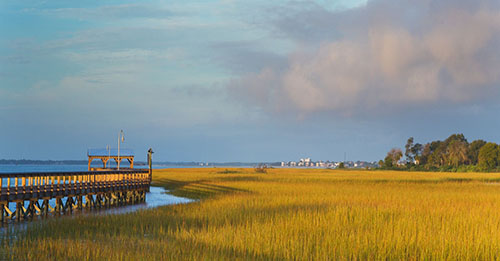 the South Carolina coast for its wide variety of enticing characteristics. Naturally surrounded on three sides by rivers, tidal creeks, waterways and harbor estuary, Mount Pleasant is blessed with a wealth of waterfront homes, private docks, marinas, and public landings, as well as creekside restaurants, boating and paddling rentals, a maritime museum and a vast array of wildlife.
Mount Pleasant, SC Homes for Sale
Find the perfect Charleston Address!
Recreation

Exhilarating outdoor recreation plays a major role in Mount Pleasant
lifestyle, with easy access to championship golf courses, Palmetto Islands State Park, deep-sea and inshore fishing, and and some of South Carolina's most intriguing parks, playing fields and hiking trails. One extremely popular recreation and social location is the eye-catching biking and hiking area overlooking Charleston harbor on the towering new Arthur D. Ravenel bridge. This pleasurable 3-mile jaunt takes people 15 stories above the shipping channel as they get a remarkable view of the historic city and surrounding coastal islands while sailboats and freighters pass silently on the acres of blue water below.
The Mount Pleasant Recreation Department plays host to a wide array of sports to include football, lacrosse, basketball, track, tennis and many more.
Shopping and Entertainment

Mount Pleasant things to do also includes outstanding shopping,
entertainment and service in a bustling modern community of that manages to maintain a friendly small-town feel. One of the enjoyable routines for gardeners and weekend fixer-uppers is a visit to Royall Ace Hardware on Coleman Boulevard and Abide-A-While Nursery on Johnnie Dodds Boulevard. The local Royall and Donaldson families that own and run these establishments are always on hand and have prided themselves for many years in treating their customers as part of the greater Mount Pleasant family. Local folks often find excuses to visit these two attractive locations for the chance to catch up with other townspeople and enjoy the old-world attention of likeable and knowledgeable staffers who are there as much to help as to sell.

Nearby, up-scale shopping is also a treat at Gwynn's department store on Anna Knapp Boulevard, where owner Marshall Simon and his staff welcome people to a haven of personal service not found in most retail chains, featuring the highest quality apparel, cosmetics, gifts, furnishings, jewelry, and other exquisite accessories. Fine men's styles include names such as Burberry, Corneliani and Ross Graison, while women's fashions feature such outstanding selections as Carmen Marc Valvo, Escada Sport and Deborah Linquist.

Across the street from Gwynn's is the popular Whole Foods Market at Patriots Plaza Shopping Center, which buzzes with daily activity of Mount Pleasant's largely health-conscious patrons. The organic vegetables, wines, coffees and cheeses at Whole Foods come from around the world, and on Tuesday afternoons in late spring and summer, the Mount Pleasant Farmers' Market opens under old oaks near Simmons Street for a tasty helping of local goods and produce.

For more varied shopping needs, Mount Pleasant features a number of easy-to- find and park shopping plazas. The breezy outdoor venue at Belle Hall Shopping Center on Longpoint Road offers 60 specialty shops, ranging from Starbucks Coffee, Carolina Girls gifts, Wonder Works for children, and a host of tantalizing eateries such as the Just Fresh Bakery Café.

At Mount Pleasant Towne Centre on Palmetto Grande Drive, more than 65 national and local businesses include The Gap, Belk, Banana Republic, Barnes and Noble, Jos. A. Bank, and Old Navy, Victoria's secret and Stella Nova Spa and Salon. The shopping area is part of Mount Pleasant's Sweetgrass Heritage Corridor, featuring masterful hand-woven baskets of this ancient folk art at the Sweetgrass Basket Pavilion.
For a little more history on the Mount Pleasant area, read about Scanlonville.
Restaurants

Having worked up a thirst or an appetite is rewarding in Mount Pleasant, with more than 150 restaurant locations. Fine dining in cozy settings is the fare at Coco's, Langdon's, The Old Village Post House, Red Drum, while more the more relaxed waterfront atmosphere is featured at Water's Edge, The Wreck of the Richard and Charlene, Vickery's, and Mount Pleasant Bar and Grill, all located on scenic Shem Creek.