Tidal Creek homes and lots for sale - Charleston South Carolina
HOME DOWNTOWN CHARLESTON MOUNT PLEASANT SULLIVAN'S ISLAND DANIEL ISLAND JAMES ISLAND
WEST ASHLEY JOHNS ISLAND CHARLESTON RELOCATION ASK AN AGENT PROFILE
The Tidal Creeks in the Charleston area are some of the most pristine in the country.
Simply click on the link to find all Tidal Creek Properties available in the MLS that match your criteria
Find the perfect Tidal Creek Address!
Waterfront Condos for sale ~ Waterfront Homes for sale
The Charleston lowcountry is blessed with an abundance of water on the barrier islands in and around Charleston, SC. Charleston's waterfront boasts tidal creeks, tributaries, the Intracoastal Waterway and the Atlantic Ocean. We think we live in a pretty special place. There is a side of her that many people do not get the chance to see... Rivers, creeks, marshes, estuaries, inlets and fish. If you like tailing sport-tail bass in the marsh grass you have come to the right place! If your idea of fun is to go fishing, crabbing or swimming off your own dock, or sift through the sand with your toes, you'll want to learn more about Charleston's barrier island communities by clicking on one of the neighborhoods below.
Mount Pleasant homes for sale:
HOBCAW POINT- Hobcaw is one of the Charleston area's hidden gems, tucked away on a waterfront point between Molasses and Hobcaw creeks and the Cooper River. This area was originally favored in the colonial era by shipbuilders lured by its mighty oak trees. Hobcaw's charmingly-spacious lots and houses are still shaded by canopies of towering oaks and pines, offering a scenic background to the interlacing areas of marsh, river and tidal creek. Many homes feature private docks, and the neighborhood also boasts one of the area's oldest and most prestigious yacht clubs, dating to 1853.

MOLASSES CREEK – Bordering the winding path of historic Molasses Creek, this tree-shaded neighborhood features a wealth of recent construction exquisitely-detailed in classic architectural styles and expertly-designed to afford a scenic blend with the lush natural surroundings. Molasses Creek gets its name from 18th century rum production for historic Charleston taverns, and today has earned a reputation as one of the most exclusive waterfront neighborhoods in the Charleston area.

CREEKSIDE PARK – This classic neighborhood was developed overlooking the stunning vistas of famed Shem Creek in the late 1970's, and continues to be one of the most sought-after locations in Mount Pleasant. Stylish homes on large lots filled with old-growth trees get wonderful breezes from the expanse of tidal creek that features flocks of great blue herons, egrets, and pelicans. Tennis courts, a community dock and landing, as well as extended greenspace glades are all part of the comfortable and natural mystique that makes Creekside a highly-desirable address.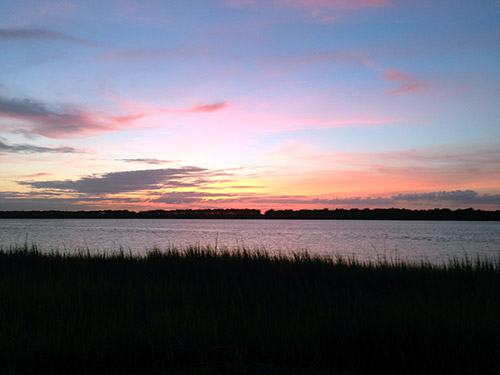 RIVERTOWNE ON THE WANDO - Custom homes, private docks, and exhilarating views are par for the course at this outstanding golfing community. Bordering one of coastal South Carolina's most pristine tidal rivers, the beautifully-situated neighborhood offers splashing dolphins with each sip of morning coffee, as well as diving pelicans and ospreys silhouetted against evening sunsets. With an 18-hole championship course designed by Arnold Palmer only a golf cart drive away, the natural and recreational potential of Rivertowne on the Wando truly makes this neighborhood a spectacular address.


BRICKYARD PLANTATION - The tidal influence of the Wando River and surrounding waterways adds to the pleasurable flavor of today's tantalizing community, just as they played a major role during the colonial era when bricks were fashioned from clay in creek bottoms. The influence of the flourishing tidal streams and marshes gives the neighborhood fresh breezes,

abundant wildlife and incredible views from an assortment of home styles fashioned after historic Charleston.

WESPANEE PLANTATION –
The natural beauty of Old Towne Creek that lured Charleston's original founders still permeates Wespanee Plantation today. This winding tidal creek through lush expanses of marsh was the gateway to the first settlement of the city in 1670, and continues to provide a pristine vista from captivating home sites shaded by ancient oak trees. Spacious homes offer a sense of serene seclusion only five minutes from the downtown area, with many featuring great rooms and bedrooms with dazzling views of the creek and nearby Ashley River.

SOUTH WINDERMERE –
South Windermere has long been considered a Charleston classic with its stately homes on quiet streets bordered by tidal creeks and marshes. The neighborhood is part of an historic area of gardens and glades once known as The Pleasure Grove, and was one of the prized sites first chosen for suburban living near Charleston. Less than five minutes from the downtown area, South Windermere is ideally-situated to afford all the amenities of the city while offering a more relaxed atmosphere in a spacious natural setting.

EASTWOOD – Facing the steeples of historic homes of old Charleston just across the scenic Ashley River, Eastwood offers all the beauty of the historic coastal city without much of the expense. High bluffs along riverfront and finger-like tidal creeks give Eastwood a commanding view of Charleston harbor and vast acres of waterfront estuary, including palatial homes with private docks and waterfront viewing decks. The area was long ago favored by local planters who enjoyed the fresh breezes coming from the sea less than one mile to the east, and has more recently been prized by families who bask in the pleasures of large, private lots and shaded, quiet streets adorned with picturesque homes.

PARROT CREEK –
Only a matter of minutes from downtown Charleston on the seaward tip of James Island, Parrot Creek is a wonderful confluence of natural and architectural beauty. Alluring new homes blend with historic natural surroundings of moss-laden oaks and winding, tidal creeks, tucked pleasantly in a private expanse of lush gardens and green spaces only a stone's throw from Charleston's magnificent harbor estuary. A number of the neighborhood's spacious homes feature deep water access and private docks an slips for easy access to the expansive area waterfront.

STILES POINT PLANTATION –
Situated on waterfront acreage of a pre-Civil War plantation, Stiles Point features luxurious properties overlooking incomparable views of Charleston just across the scenic Ashley River. Custom homes offer such classic historic motifs as colonnaded piazzas for enjoyment of waterfront views and breezes, as well as more contemporary styles of decks and transom windows for blending interior spaces with the lush greenery of surrounding oaks and gardens.

GIFT PLANTATION - Framed against the dazzling natural backdrop of the scenic Stono River, Gift Plantation offers the ultimate in secluded serenity on one of South Carolina's most historic sea islands. The plantation concept was once synonymous with John's Island, famed for its bountiful crops and abundant natural surroundings. Although less than twenty minutes from downtown Charleston, Gift Plantation retains the relaxing feel of pristine coastal countryside, with the quiet of its windswept river estuary only broken by the sound of wading birds and splashing dolphins. Gift Plantation's elegant homes feature the finest in detailing and conveniences, as well as a wealth of neighborhood amenities that include a fabulous clubhouse, swimming pool, and tennis courts. The plantation waterfront also offers a boardwalk and private recreational islands, in addition to fishing and floating docks, and deep water dock access to the intracoastal waterway.

HEADQUARTERS ISLAND–
Nestled in the natural surroundings of stunning waterfront and flourishing green space, Headquarters Island is among the most exclusive and relaxing private communities on the South Carolina coast. This upscale gated community overlooks the Stono River and tidal creeks on all sides, and is ideally-located within 15 minutes of downtown Charleston, coastal beaches, as well as numerous public parks, golf courses, first-class restaurants and boating facilities. The custom designs of Headquarters Island homes are alluring in their own right, with compelling features such as private swimming pools, 9-foot ceilings, and Brazilian Cherry woodwork. Many properties offer deep-water access to the intracoastal waterway and nearby Charleston harbor, and all are blessed with spectacular waterfront vistas and close views of varied wildlife species.