Charleston homes and gardens - Historic Downtown Charleston South Carolina
HOME DOWNTOWN CHARLESTON MOUNT PLEASANT SULLIVAN'S ISLAND DANIEL ISLAND JAMES ISLAND
WEST ASHLEY JOHNS ISLAND CHARLESTON RELOCATION CHARLESTON AGENTS PROFILE
Charleston SC Gardens
The gardens of homes and national treasures in downtown Charleston and beyond...
return to Charleston SC homes for sale homepage
CHARLESTON GARDENS Charleston gardens have been internationally-renowned since the 1700's, when the world discovered a thriving paradise in the area's rich soil,
plentiful creeks and rivers, and sunny, sub-tropical climate. Famed 18th century European botanists Mark Catesby, Carolus Linnaeus and Andre Michaux were among those who came to the city to help plant the seeds of this country's blossoming natural identity, as the camellia, azalea, tea olive and crepe myrtle are some of the plants whose American roots can be traced directly to Charleston. Learn about Charleston's famous churches and architecture peak inside some interiors of Charleston's finest homes during the Charleston tour of homes.

Exotic blooms and fragrant trees that lived in obscurity in remote areas of the world flourished with new-found fame in Charleston, most notably the flowering evergreen from China renamed Gardenia in 1754 for Charleston naturalist Alexander Garden, the Noisette Rose introduced from France by Charleston immigrant Philippe Noisette, and the unusual fire plant brought home by U.S. ambassador to Mexico and Charleston resident Joel Poinsett, for whom the new name Poinsettia has become an American classic.

Plan on visiting Charleston in 2016-2017!

Preservation Society of Charleston: Annual Fall Tours of Homes and Gardens, October 6 – 30, 2016 Thursdays, Fridays,Saturdays, and Sundays. This five week event is possible only as a result of the generosity of owners of historic properties, loyal Society members, and dedicated volunteers. Please join us as we share the unique heritage of this National Historic Landmark city with you. Tickets are $45 and a special three day weekend rate of $120. Call for more information (843) 722-4630.

Historic Charleston Foundation - Festival of Houses and Gardens - Festival of Houses and Gardens - 70th Annual Festival of Houses and Gardens March 16 through April 22, 2017 . The festival takes place during Charleston's peak bloom time. These tours provide a rare opportunity for guests to go inside the private houses and gardens of some of America's most beautiful historic residences, dating to the 18th century. For more information, contact the Ticket Office at 843-722-3405.

Offered each Thursday of the Festival 2017- Glorious Gardens - March 16th, March 23rd, March 30th, April 6th, April 13th and April 20th beginning at 2 p.m.



Need a knowledgeable guide?

Wander through colorful gardens, linger inside historic structures, marvel at the touch of a Civil War cannon, and discover the intriguing stories of the people and events that shaped them - the very best of Charleston from the citys acclaimed local author, historian and storyteller Michael Trouche Call 843-478-4718 for reservations or visit CharlestonFootprints.com to find out more.



Charleston was considered such a prosperous growing area that during colonial times, parts of downtown were planted in fruit orchards and rice fields, and although long replaced by houses and gardens, their legacy remains in downtown Orange Street, where a lush citrus grove once stood,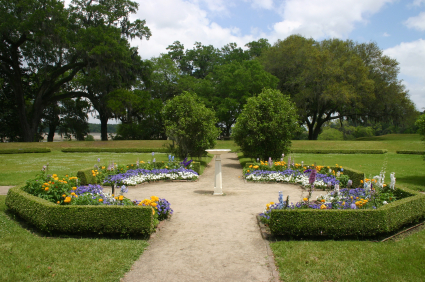 as well as the historic West Point rice mill, part of today's city marina complex.

The oldest estate garden in the Western Hemisphere is just outside the city at famed Magnolia Plantation and Gardens along U.S. highway 61,where former rice fields were converted into a florid landscape of gardens, reflecting ponds and arched walking bridges that today offer the public some of the most dazzling hues of azaleas anywhere. Nearby Middleton Place is another historic plantation garden open for public viewing, featuring terraced grounds created in the 1740's to show off manicured flowering galleries.

Hampton Park, in the northwestern section of the city, is Charleston's largest, and encourages the eyes and feet to roam its acres of colorful trees and flowers. Initially a horse racing track in the 1790's, the park was an outdoor pen for Union prisoners during the Civil War and, in 1901, home to a World's Fair with an elaborate group of temporary white palaces known as "The Ivory City". (find out more about the Ivory City featured in our newsletter Summer 2007) The fair's sunken reflecting pond is all that remains of the construction, which has given way to spacious flower beds that include the Noisette Study Garden reserved for unusual species of roses.

The garden tour is a cherished tradition in downtown Charleston as well, as the stunning spectacle of Spring and Fall flowers was the city's greatest tourist attraction long before harbor cruises, beach vacations and ghost walks. For the past 61+ years, the Historic Charleston Foundation as conducted its annual Festival of Houses and Gardens during the peak blooming season of March and April, offering guests the rare opportunity to wander the private residential interiors and gardens of more than one hundred distinctive and historic downtown homes. Native varieties flowering in Spring include dogwood, redbud, and fringe trees, as well as azalea, yellow jessamine, and bignonia. For 31 years, the Preservation Society of Charleston has held its annual Tour of Homes and Gardens during the Fall bloom, when tea olive, camellia, and gingko show their colors.


Any time of year along any Charleston street is a good vantage point for a colorful experience. House after house on each block throughout downtown residential neighborhoods seems to spill over with blooms and petals - on front lawns, in window boxes, behind wrought iron gates, along driveway borders and around courtyards and fountains. Summer blooms include magnolia, althea, and hydrangea, while Winter brings camellia, loquat, and daphne, and the price for lingering to enjoy them is no more than a casual stroll.

A number of public and private places around the old city have been planted specifically to encourage the pedestrian enjoyment of Charleston's garden tradition. Washington Square at Meeting and Broad Street is one of many lush green spaces in the midst of the city, and attracts artists throughout the year who favor its surrounding scene of bright colors and historic buildings. Colonial Lake between Rutledge and Ashley avenues was once a mill pond for rice and lumber mills many years ago, but today provides a haven for ducks, geese and pelicans who enjoy its perimeter of live oaks and oleanders. White Point Gardens and its approaches along East Battery and Murray Boulevard at the southern tip of the peninsula facing Charleston harbor served as gun batteries during the Civil War, but what is today collectively-known by local residents as "The Battery" offers perhaps the finest views on the Atlantic Coast, with rows of brimming azaleas and oleanders, as well as towering oak trees covered with Spanish moss. The Calhoun Mansion on Meeting Street and the Pineapple Gates house on Legare Street are among the many notable private homes that nonetheless welcome views from the sidewalk into highly-visible and incredibly-colorful fountain gardens.

Find out about the Charleston architecture and some of the most notable homes in the city. Also, brush up on Charleston History. Discover more about the Interiors of Charleston's finest homes.