Moving and Buying a home in Charleston, SC - Connect with an agent today
HOME DOWNTOWN CHARLESTON MOUNT PLEASANT SULLIVAN'S ISLAND DANIEL ISLAND JAMES ISLAND
WEST ASHLEY JOHNS ISLAND CHARLESTON RELOCATION CHARLESTON AGENTS PROFILE
Quick listing Search for popular lifestyles:
Need more information? Have a question or need more information about an MLS listing? Call or send us an email. Connect with a real estate expert in Charleston, SC. We offer an ideal blend of personal experience and
professional guidance when searching for the perfect place to call home. Work with an agent who knows Mount Pleasant and downtown Charleston – the Real Estate market, the City, the Communities and the Beaches. The Charleston Address Team is consistently a multi-million dollar producer year after year and a member of the Carolina One Gold Circle of Excellence.
*How can we help? See below for most asked questions.
We know the questions to ask to help you find the home that fits your lifestyle best. Meet and learn more about The Charleston Address Team . Email or call 843-568-0595. We work for the Carolina One Real Estate company, the market leader when it comes to real estate in the greater Charleston, SC area. The history of Carolina One in the Lowcountry goes back to the 1960's and has steadily grown stronger year after year. Today, Carolina One has over 30% of the market share in historic, downtown Charleston, Mount Pleasant and West Ashley and over a quarter of the overall MLS market. In addition, we offer you a staffed Relocation Department, Marketing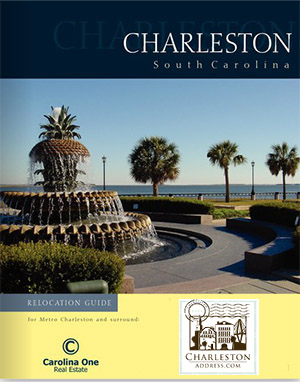 Department, NewHomes Division, and in-house mortgage services.
If you would like to receive our free relocation E-Guide to the area, please fill out the form below and choose"Yes" to receivethe guide. This guide touches on the varied lifestyles and communities that comprise Charleston. It also provides information on business facts, medical facilties, cost of living comparisons and top area employers. In additon, there is a newcomers index with numbers with everything from voter registration information to utilities.
Give me a call 843-568-0595 and I can help you find the answers regarding taxes (#3), insurance, home inspections, mortage information, neighborhoods and more.
Top Questions Buyers Ask:
1.) Where are the best places to live? That is not a simple question. There are so
many wonderful areas from which to choose. Charleston has many different communities and they all have a distinct vibe of their own. What is important to you? Do you want new constuction, a more established neighborhood, amenities, historic, beach, golf, walkability, drive time, good school district? For your first visit, if possible, allow a day or two of exploring. We will be able to offer suggestions about neighborhoods and areas that may be a good fit based on your unique set of home buying details. This will help you rule out areas that do not meet your criteria and save you time.
2.) From researching to closing, we will help you navigate the entire home buying process step by step:
Research areas and properties by using our Buying in Charleston information page
Road map to your home loan. The home buying process - From pre-approval to applying for your mortgage to the new TRID regulations.
12 week checklist for your move to Charleston. From checking with the IRS to see what deductions you can take on your tax return to arranging transfer of your veterinarian records
3.) Our taxes are some of the lowest in the country . The Tax Foundation found that people in South Carolina ranked #6 inpaying the least in property taxes across the country. Charleston County Tax Forms.
Following these links to find detailed Charleston County tax calculation and Berkeley County Tax calculation examples for figuring out your taxes.
South Carolina Department of Revenue: Moving to South Carolina - A Tax Guide for New Residents
Visit SCTax.org or download your Tax Guide here. (It takes a few seconds to download) As of January 2014, South Carolina does not collect State Estate taxes or Inheritance Taxes. This needs to be verified with the Department of Revenue periodically as policies are subject to change.
Charleston County Assessor's Office
T. Wallace County Office Building
101 Meeting Street
Suite 135
Charleston, SC 29401
Phone: 843-958-4100
Kiplinger's Top 10 ranking shows South Carolina as one of the most tax friendly states!
"Sometimes I feel like I'm an ambassador for people moving here from other states," said Patrick Cobb, spokesman for AARP South Carolina. "They are always looking to our state because of all the (tax) exemptions."
South Carolina scored well in Kiplinger's ranking because, in addition to Social Security benefits being exempt from state income tax, each senior can deduct another $15,000 of income from any source starting at age 65, and that's after counting their federal tax deduction. As a result, many seniors pay no South Carolina income tax.
In addition, homeowners at age 65 are exempt from property tax on the first $50,000 of the value of their legal residence, once they apply for the Homestead Exemption at their local county auditor's office. And property taxes for homeowners are generally low in South Carolina, as legal residences are exempt from the property tax that funds public school operations.
***Assessment Ratios
The following class specific percentages are used to determine the assessed value of the property for purposes of taxation:
Primary Residences: 4.0% of fair market value
Agricultural Property (privately owned): 4.0% of use value
Agricultural Property (corporate owned:) 6.0% of use value
Other real estate (such as second homes, investment property etc): 6.0% of fair market value
Taxes on Primary and Secondary residences: detailed example
Sample Calculation
• Appraised Value x Assessment Ratio = Total Assessment
• Total Assessment x Millage Rate = Initial Estimated Property Tax*
• Tax Credit Factor **(only if applicable) x Appraised Value = Credit
• Initial Estimated Property Tax – Credit = Total Estimated Tax
For Example: A $500,000 house x 4% assessment (primary residence) = $20,000 $20,000 x .3133 (Millage Rate) = $6266 Tax credit factor .00229 (if applicable) x $500,000 = $1,145 Tax Credit $6266- $1,145 (Tax Credit) = $5,121 Total Estimated Tax
* Property Tax Credits are applied in Charleston and Berkeley Counties.
**Always check with your county assessor as other charges may apply
4.) Flood Insurance - Please call for an update on the flood insurance pricing in the Charleston area. We have found several good options to obtain competitive pricing - local, national and international.
5.) Gather your financial documents. If you are planning to get a mortgage in order to buy a home, you need to make sure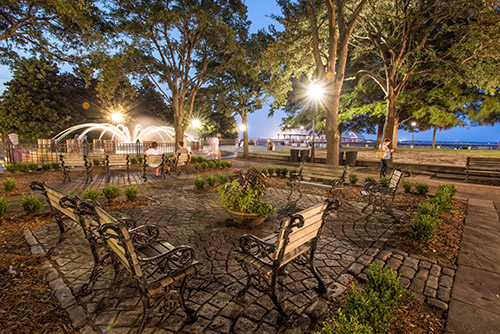 your credit history is in good shape. A few months before you plan on purchasing contact a loan officer to see what you can afford to buy. Ask about points and rates and get pre-approved. You will beed to provide a lot of documentation such as your W2 (1099), bank statements, federal tax returns, recent pay stubs or proof of other income. Getting pre-approved can put you in a better negotiating position.
6.) Get pre-qualified and pre-approval. This can help when it comes time to make an offer on a home. Getting pre-qualified is usually a quick process. Maybe just a phone call to your bank to give you a rough idea of how much of a loan you can get. Getting pre-approval takes a bit more time. The number can change as your banker takes a deeper look into your finances. Many agents require that an offer be accompanied by a pre-approval letter.
Top 5 Good To know about home loans.
7.) Hire a home inspector. Here are some tips...
Ask to see a sample report before you hire someone to get an idea of the kind of report you can expect. Look for digital pictures and estimate repair costs. It is a good way to compare two inspectors.
Brand new homes should be inspected too.
Read the full report - not just the summary.
If you have questions, please wait until the inspector is done. You do not want to distract him from his job.
A thorough inspector checks the crawl space, opens the breaker box and walks on the roof. Most homes take at least 3 hours to inspect.
8.) How many homes do most people see in a day? I typically show between 5-7 homes in one day. In my experience, it can be difficult to remember details about the homes viewed if you see more than five to seven. In addition, there may be other time constraints for the person relocating to Charleston such as meeting with a new employer, looking at schools etc. If you are looking for retirment or a second home purchase, you may want to look into different golf clubhouses or simply enjoy the beach for a few hours.
9.) How many homes do you show a client before they buy? This is not an exact science! Every buyer is different and has there own set of circumstances.
10.) Are schools important to you? If the answer is yes, then plan on visiting schools in the areas that interest you. Talk to the teachers and administrators and ask your realtor to give you the names of parents that have children attending in the district.
11.) One way to begin your search is to decide what is most important to you... your home or the neighborhood. If the home is the most important think about ideal square footage, number of bedrooms and baths, master downstairs, screen porch, fenced in yard etc. Another way to figure out where you will be most happy is to find the neighborhoods you like the best and then choose your home. It really depends what is the most important to you…neighborhood or home.
12.) How long are you planning to stay in your home? The average is length of time for buyers 18-24 is 7 years and buyers over 45 might stay in there home on average for 15. Even in a market that is rising you need to consider the costs associated with buying a home. Your transaction costs, moving expenses and minor cosmetic items i.e. painting and repairs can add up.
13.) Get professional help. The internet is a great tool for accessing home listings and getting to know an area before you visit. Look for a Realtor ® that knows the market well and has a good negotiating track record and helps with strategies for the bidding process. Knowing what other homes have sold for and what condition they were in at the time of the sale is also important.
Choosing an agent to represent you:
What are the benefits?

Manage and guide you through the entire process from making an offer all the way to closing
Professional representation of your interests
Advice on financing and other terms and details
A skilled negotiator working to get the best terms and price for you
Provide information on specialists who may need to be employed such as home inspectors, closing attorney, painters etc.
Work with an agent that primarily works with buyers
Work with a relocation specialist
14.) Talk to a local when you are out and about exploring this great city!
Get Organized. Save Your Searches. Create and Save personalized searches and favorite homes so you can go back to review them and share them with your friends and family.
Stay Ahead of the Game... and receive email notifications of new homes that meet your criteria as well as price changes on listings that you saved and previewed. Choose to receive the latest newsletter or our company e-relocation guide to the greater Charleston/Mount Pleasant area. Our e-relocation guide provides information such as Charleston's top employers, contact information for medical facilities, libraries, goverments contacts, postal services, parks, gardens and more...
Moving to Charleston SC? What every buyer should know. If you are considering a move to the Charleston area there are few things every potential buyer should consider.
Ariel has provided professional service and expert advice to countless buyers and sellers who are relocating to the area, choosing their primary residents, or second home. As a resident in Charleston and owner of investment property, Ariel specializes in historic Charleston, Sullivan's Island, Mt. Pleasant, and James Island. Ariel's wealth of knowledge provides her clients great insight with regards to schools, Charleston neighborhoods, restaurants, services, and the Charleston style of living which she enjoys sharing with her husband, 3 sons, and her clients. Please give Ariel Trouche the opportunity to assist you in buying or selling your Charleston Address today!
Shop for a home in one place. Gain access to ALL listings in the greater Charleston area. You do not need to shop multiple sites to gain access to ALL listings in the Charleston, SC MLS.
Click the links above to find out more about local market statistics.

Charleston, S.C. has been named the "Top U.S. City" and
"Top Destination" in the World by Conde Nast Traveler 2011, 2012, 2013, 2014 and 2015 Reader's Choice Awards.
Start Searching for Charleston area property with our Advanced Charleston MLS Search
If you are relocating to Charleston, please visit our Charleston Relocation information pages.