Second home on the beach or vacation property in downtown Charleston, South Carolina
BUYING A HOME | SELLING A HOME | CHARLESTON MLS | MEET CHARLESTON AGENTS | TESTIMONIALS
HOME DOWNTOWN CHARLESTON MOUNT PLEASANT SULLIVAN'S ISLAND DANIEL ISLAND JAMES ISLAND
WEST ASHLEY JOHNS ISLAND CONDOMINIUMS WATERFRONT LOGIN
Make the most of your home away from home in Charleston, South Carolina.
return to Charleston Real Estate homepage or relocation page
Who needs a car! Spend the morning wandering through the Market with your coffee from the Bakehouse Bakery Cafe, lunch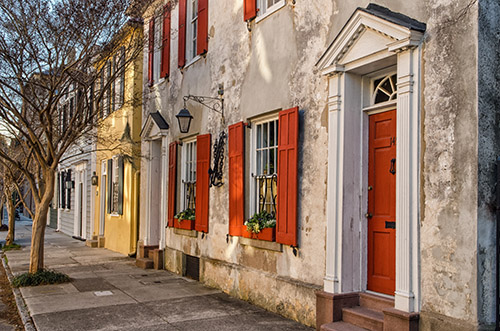 at SNOB (Slightly North of Broad) then finish your afternoon browsing the finest original art in the French Quarter or an early evening play at the Dock Street Theater. Your home is waiting for you… just around the corner enjoy a glass of wine while watching the carriages stroll by. We can help your find the perfect oasis in one of the finest cities in America. Forget the car – downtown Charleston (29401) has a walkability score of 85. (walkscore.com) That puts historic, downtown Charleston second only to New York City with a score of 88. This is truly "green" living at it's finest. On this site, you will find vacation homes and lifestyle communities that you will want to call your home away from home and explore time and time again. Discover luxury homes, hidden historic gems, lock and leave condominiums and home-sites.
Find out more about the buying process and begin your search for a home in Charleston, SC. Contact Jane and see firsthand who she is and the difference she can make when you are buying, selling or investing.
Taxes: Find out about Charleston County taxes and Berkeley County taxes too.
Build or buy a home? If you are looking for land please visit our lots and land page.
Whether you're shopping for a second home as a vacation home, a retirement home or an investment property, Charleston is worth your consideration. There are miles of sandy beaches, exploring Charleston waterways, golf course communities, world class fishing and boating activities, equestrian, world class tennis facitlities on Daniel Island, historic and natural beauty, shopping and fine dining to delight even the most discerning palates
Just listed: Great investment or family home listing in downtown Charleston. Lots of great living space and rental history.
For potential second home buyers, Charleston offers two of the most important and desirable considerations - year-round enjoyable lifestyle and consistently-improving investment. The most typical motivation in purchasing a second home is finding an ideal spot for vacations and eventually for retirement, and as one of the country's top tourism and relocation destinations, Charleston fits the bill very well.
Blessed with a mild, sunny climate and an expansive stretch of oceanfront and intracoastal waterways, Charleston is an outdoor delight throughout the year, as anglers, golfers and beachgoers enjoy balmy days in all four seasons. Added to its natural warmth is Charleston's visual and cultural charm, found throughout the fabled streets of America's most historic city, where grand piazzas, flourishing gardens and cobblestone streets create a distinctive old-world beauty.
Are you looking for a second home, A vacation retreat for your family, or simply a good opportunity to diversify your investments? Sometimes second homes can be your best investment.

A major gauge of second home desirability is the range of available amenities, and here again Charleston shines. World-class
championship golf courses abound at prestigious locations such as nearby Kiawah Island Resort, Seabrook Island and Wild Dunes resorts, while deep-sea and in-shore anglers can enjoy some of the best fly and sportfishing on the Atlantic Coast. Exquisite dining experiences await in some of the country's finest restaurants that include Mobil five-star Woodlands Resort & Inn, and Mobil four-star Charleston Grill, Peninsula Grill and Ocean Room at the Sanctuary on Kiawah Island. The Charleston area also includes two professional sports franchises, one international airport and two executive airports, a waterfront aquarium complex and maritime museum, a unique old-world outdoor market place as well as a numerous chic shopping districts, miles of public beaches, and an incomparably scenic downtown area.

According to the National Association of Realtors, residential properties in the Charleston are still far below the median for comparable listings in other coastal areas. Surrounded by barrier islands, pristine coastal wetlands, protected natural sanctuary and national forest, Charleston has a wealth of scenic single-family properties, golf resort communities, condos and undeveloped lots along beaches, tidal creeks, rivers and marsh front.

Many of those who enjoy getting away from it all have discovered that secondary-home investing in these properties makes more sense over the years than throwing money away annually on expensive vacation rentals and hotels. Instead, they have the opportunity to earn vacation rental on their second property, as well as qualifying for tax incentives. The 1031 tax-free exchange, for example, allows an investor to purchase a second home, and after using it as rental property for at least two years, sell the primary residence and move in without paying capital gains.

NAR statistics show that locations near water in warm climates are the most popular and desirable second-home locations, which continues to boost the value of Charleston property. Another big incentive is to have an investment property for children in college, and with three universities - The College of Charleston, The Citadel and Charleston Southern University - a technical college, MUSC and the new Charleston School of Law, many parents have used second-home investment to get a jump start on vacations and retirement and make better use of money previously spent for expensive off-campus housing.
Considerations for purchasing a second home, retirment, investment or vacation home:
Retirement Home: If you plan to retire to your second home. Will it be easier to afford your retirement home while you are still working? If you need the income from your current job to pay for some of the second home expenses, then it might be a good time to consider buying your retirment home now.
Buying outside of your local area requires careful pre-purchase analysis to make sure that you end up with a home that
gives you the lifestyle options you need. Most second home buyers will hold on to their home for at least ten years, so visiting the places that you are considering for a second home at different times of the year is a good idea.
In addition, consider the following:
Market conditions. Are there a lot of homes on the market you are considering?
Are there any hazards to be aware of in this area? Flooding, fire, hurricanes? Check to make sure that you can get coverage.
Taxes: Check with your accountant to learn about the local tax laws and what they mean to you. Find out how much your taxes will be and if there will be a substantial increase over time.
Gardening and maintenance: Who is going to cut the grass and maintain your second home? Do you want a lock and leave condominium instead?
Furniture: If the home does not come furnished, how much will it cost to furnish the home to your liking?
Utilities: You will have monthly phone, gas, electricity and water bills.
Investment: The long-term demand should be favorable because there are large numbers of people in the prime years for buying a retirement, second or investment home. While there may be fluctuations year to year in the real estate market, due to the 39.2 million people in the United States are ages 50 to 59, the demand for this segment of the population should remain.
Books: John Tuccillo and Tom Kelly have teamed up to write a book on second homes as investments. Tom Kelly, a nationally syndicated real estate columnist and talk show host, wrote How a Second Home Can Be Your Best Investment (McGraw-Hill Trade; Original Paperback: $16.95).
Find out about Charleston, SC 1031 Exchanges.